Steak Fajita Rolls
Steak Fajita Rolls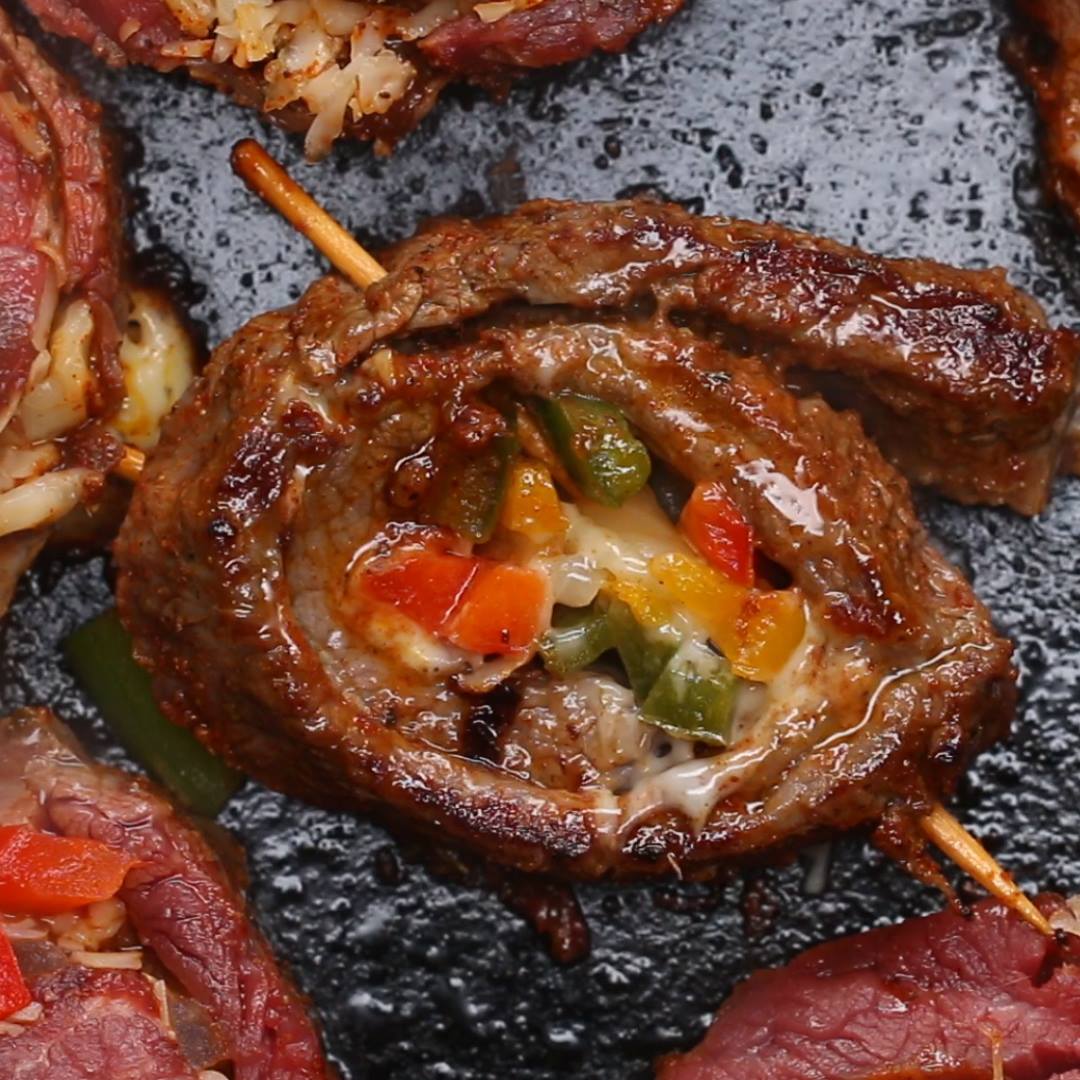 Ingredients
2 tablespoons olive oil, for cooking
1 onion, sliced
3 cloves garlic, minced
½ cup green bell pepper, sliced (50 g)
½ cup red bell pepper, sliced (50 g)
½ cup yellow bell pepper, sliced (50 g)
SEASONING
½ teaspoon chili powder
½ teaspoon paprika
⅛ teaspoon cayenne powder
½ teaspoon cumin
½ teaspoon garlic powder
½ teaspoon dried oregano
½ teaspoon salt
½ teaspoon pepper
1 ½ lb flank steak, thinly sliced (150 g)
½ cup monterey jack cheese (50 g)
SPECIAL EQUIPMENT
long wooden toothpicks or cut wooden skewers
Instructions
Preheat the oven to 350˚F (180˚C).
Heat a large ovenproof skillet over medium heat and add the oil. Sauté the onion, garlic, and bell peppers until soft, about 5 minutes.
Combine the chili powder, paprika, cayenne, cumin, garlic powder, oregano, salt, and pepper in a dish, and use the mixture to season the flank steak with on both sides. Lay the steak flat on a cutting board with the grain running up and down. Place the sautéed onions and peppers in the middle of the steak, leaving an inch or so on both ends. Cover the onions and peppers with a layer of cheese.
Tightly roll up the meat from left to right; this will ensure that you cut against the grain when you slice the meat. Stick toothpicks through the sides of the roll to help it hold its shape and use a sharp knife to cut in between the toothpicks.
Return the skillet to high heat, add the steak, and sear until a nice crust has developed, about 3 minutes. Flip and repeat with the other side. Transfer the skillet to the oven and bake for 10 minutes, or until cooked to your preference.
Enjoy!
Watch the recipe video here:
These steak fajita rolls will make your mouth water ?FULL RECIPE: https://tasty.co/recipe/steak-fajita-rolls

Posted by Tasty on Sunday, October 28, 2018