Little Mozzarella-Stuffed Meatloaves
Game plan: Heat the tomato sauce while the meatloaves cook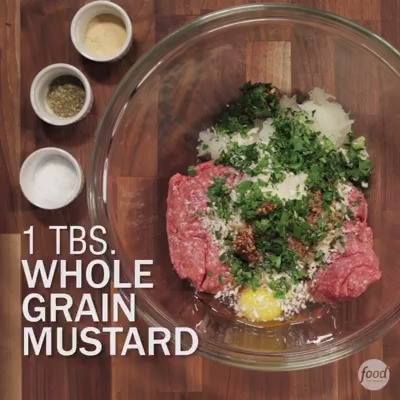 Ingredients
Loaves:
1½ pounds meatloaf mix (ground beef, pork, and veal)
1 medium onion, grated
½ cup panko (Japanese bread crumbs) or regular dried bread crumbs
1 large egg, beaten
¼ cup chopped fresh flat-leaf parsley
2 tablespoons Worcestershire sauce
1 tablespoon whole-grain mustard
2 teaspoons kosher salt
½ teaspoon Italian seasoning
½ teaspoon garlic powder
Freshly ground black pepper
4 thin slices pancetta (about 1- ounce), optional
4 small squares smoked mozzarella (about 2 ounces total)
Glaze:
¼ cup tomato paste
2 tablespoons balsamic vinegar
1 tablespoon extra-virgin olive oil
2 cups marinara sauce, jarred or homemade, hot
Instructions
Special equipment: 4-inch round biscuit cutter, or tuna or other can, top and bottom removed
Preheat the oven to 425 degrees F. Line a baking sheet with parchment paper or foil.
Break the meatloaf mixture into a large bowl and use your hands to lightly work in the onion, bread crumbs, egg, parsley, Worcestershire sauce, mustard, salt, Italian seasoning, garlic powder, and pepper until evenly mixed. Take care not to overwork the mixture.
Space the pancetta slices, if using, a few inches apart on the prepared pan and put the cutter on top of 1 piece. Divide the meatloaf mixture into 4 equal portions. Press a piece of cheese into the center and then press the meat around it to enclose it completely. Put a portion in the cutter and press gently so that it covers the pancetta evenly, and makes a neat, flat disk. Repeat with the remaining meatloaf mix to make 4 little loaves. Remove the cutter.
Whisk the glaze ingredients in a small bowl, and then spread about 1 tablespoon of the mixture over the top and sides of each meatloaf. Bake for 10 minutes, then reduce the heat to 325 degrees F. and bake until cooked through, about 15 minutes more. To serve, ladle some hot marinara sauce into the centers of 4 plates, and set the meatloaves on top.
Watch the recipe video here:
Little Mozzarella Stuffed Meatloaves are just what you need. (Follow Gooey for more like this!)

Posted by Food Network on Sunday, December 17, 2017