Cauliflower Fried Rice
Give us all of the veggies.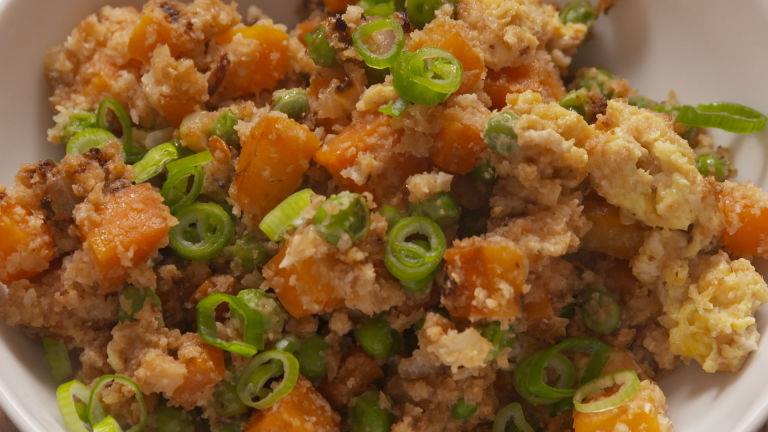 Ingredients
1 medium head cauliflower
2 tbsp. sesame oil
½ white onion, diced
1 jumbo carrot, peeled and diced
1 clove garlic, minced
2 tbsp. soy sauce
½ c. frozen peas, cooked according to package directions
kosher salt
Freshly ground black pepper
2 Eggs, beaten
1 scallion, thinly sliced
Instructions
Core and roughly chop cauliflower. Add to food processor and pulse in 2 batches until finely chopped.
In a skillet over medium-high heat, heat sesame oil. Add onion and carrot and cook until tender, 5 minutes. Add garlic and continue cooking for 1 minute. Stir in cauliflower and cook for until softened, about 5 minutes. Pour 1 tablespoon soy sauce over veggies and stir until combined. Add peas. Season with salt and pepper and cook 2 minutes more.
Scoot rice to one side of the skillet and pour eggs into empty space. Scramble until just set and mix into the rice. Add remaining soy sauce and continue cooking 1 minute more.
Divide into 4 bowls. Garnish with scallions. Devour immediately.
Watch the recipe video here: