Giant Philly Cheesesteak Crunch Wrap
When you're two favourite dishes become one..and in giant form! This Giant Cheesesteak quesadilla is cheesy and full to the brim with flavour!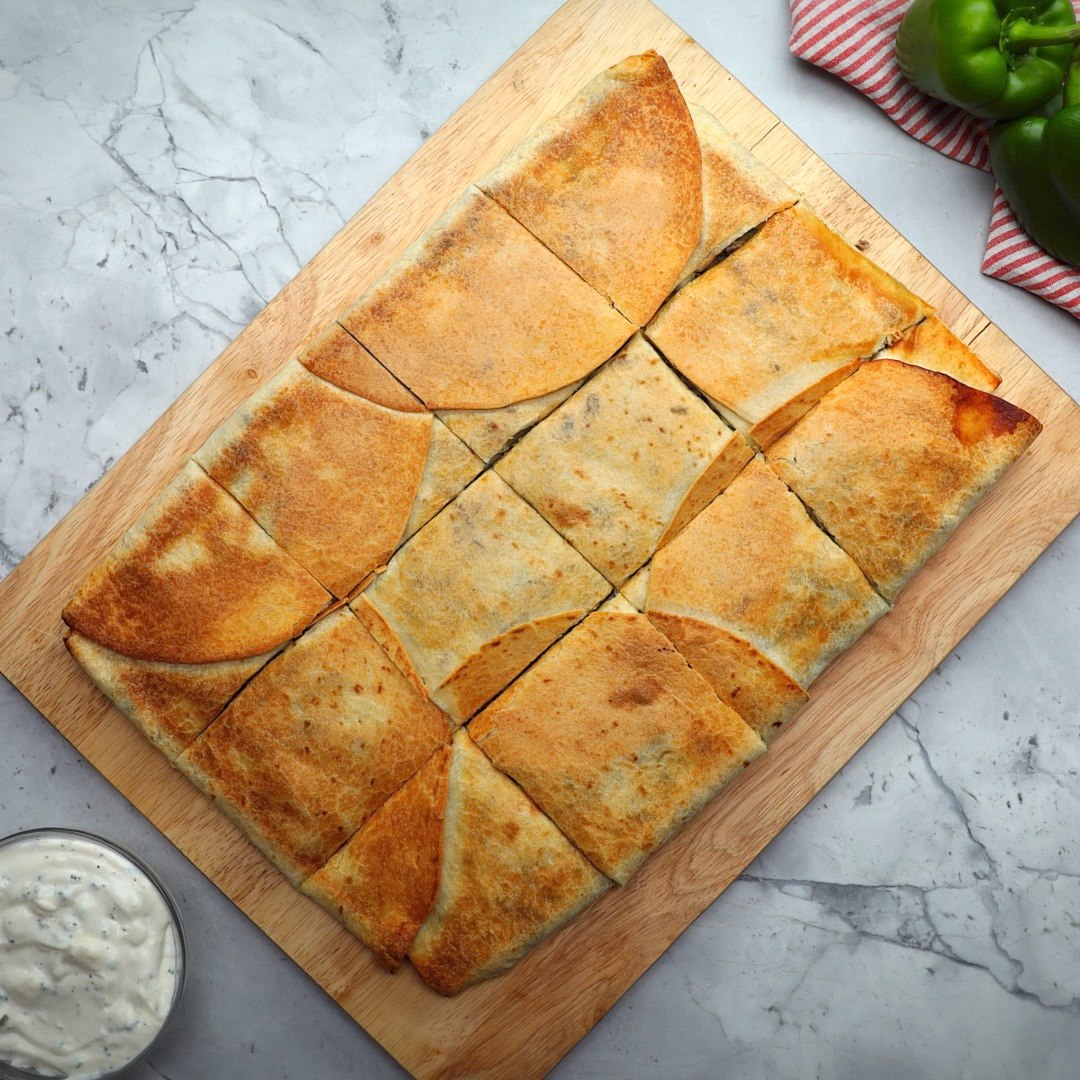 Ingredients
4 steaks, very thinly sliced
4 green peppers sliced
2 onions, sliced
4 cups sliced mushrooms
2 cloves garlic minced
¼ cup melted butter
8 large Tortilla wraps
For the dip:
¼ cup sour cream
¼ cup mayonnaise
½ tsp minced garlic
2 tsp lemon juice
1 tbsp chopped chives
Sliced mozzarella cheese
Hard Taco Shells
Salt and pepper to taste
Instructions
Heat oil in a large pan over medium-high heat. Add mushrooms and onions, stir and then cover with a lid to steam. Cook for about 5 minutes until softened and liquid is evaporated. Add green peppers and cook again until just softened. Remove from pan and set aside.
Bring the pan to high heat, add oil and steak. Sear steak until browned, drain juices. Add vegetables back to pan with steak with garlic. Cook for 5 minutes until aromatic. Remove and let cool slightly.
Brush a large 2-inch deep pan with butter and arrange tortillas (as per the video). Lay down a layer of mozzarella cheese, then top with all of the steak mix. Top with halved hard taco shells. Top with remaining steak mix and a layer of cheese. Place the last tortilla in the middle and fold over all of the quesadillas. Top with a piece of greaseproof and weigh down with another baking tray (and something heavy).
Bake for 25 minutes at 200°C.
Meanwhile, make the garlic dip Mix all ingredients and set aside until your crunchwrap is ready.
Slice up and serve with dip!
Watch the recipe video here: