Jalapeño Mac 'n' Cheese Fries
Gooey, deep-fried mac 'n' cheese sticks coated in crispy jalapeño potato chips are your next snacking obsession.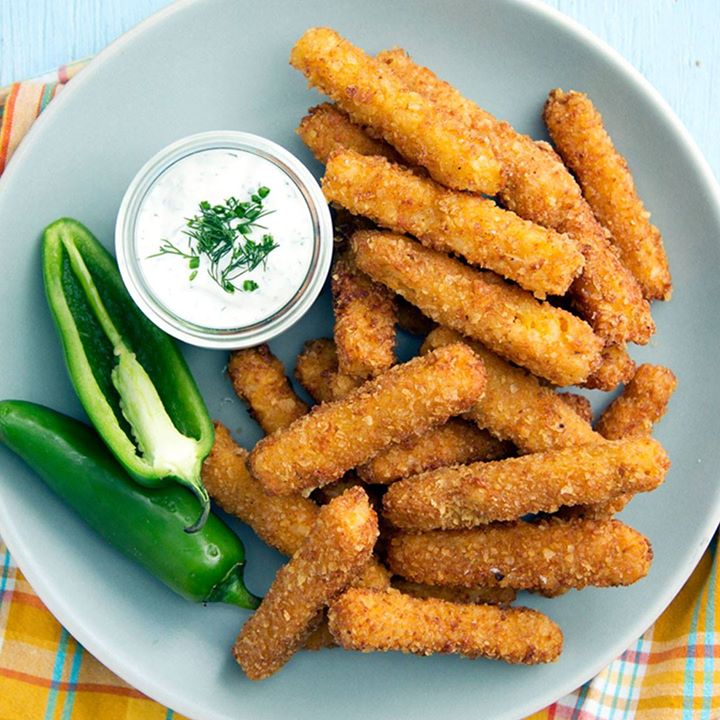 Ingredients
1 box macaroni and cheese
2 tablespoons butter
¼ cup half-and-half
½ cup shredded cheddar cheese
1½ cups flour
½ teaspoon salt
¼ teaspoon pepper
¼ teaspoon cayenne (optional)
2 eggs, beaten well
1 (8½ ounce) bag jalapeño-flavored potato chips, crushed
2 cups vegetable oil
½ cup mayonnaise
⅓ cup sour cream
¼ cup buttermilk
½ teaspoon granulated garlic
1 tablespoon chives
1 tablespoon dill
Instructions
In a 2-quart saucepan over high heat, heat 6 cups of water to a boil. Add macaroni and cook, stirring occasionally, for 7 to 8 minutes.
Drain and place pasta back into saucepan. Add butter, sauce powder, half-and-half and shredded cheese, stirring until combined and cheese has melted.
Pour into a parchment-lined rectangular baking dish and press flat until about ½-inch thick. Chill 30 minutes to overnight.
Using a knife or pizza cutter, cut ⅓-inch by 3-inch batons out of the chilled macaroni.
In a small dish, add flour mixed with salt, pepper and cayenne. In a separate shallow dish, add the beaten eggs. In a third dish, add the crushed jalapeño chips.
Dip a mac 'n' cheese baton into the flour until lightly coated, then dip into egg, then coat well with crushed chips. If needed, dip again in the egg, then in the chips. Repeat with remaining macaroni batons.
In a 2-quart saucepan, heat 2 cups vegetable oil over medium heat to 350 degrees.
In batches, taking care not to overcrowd the pan, fry the coated macaroni until golden brown. Drain on a paper towel-lined plate.
To make ranch dip: Stir ingredients together in a mixing bowl and allow to chill for 30 minutes.
Serve fries alongside ranch dressing.
Watch the recipe video here:
This is one snack that'll kick you in your tastebuds!Full Recipe: https://taste.md/2tSaBDu

Posted by Tastemade on Sunday, March 4, 2018