Homemade Chicken Shawarma
You don't have to go out for flavorful, aromatic chicken shawarma when it's this easy to make at home.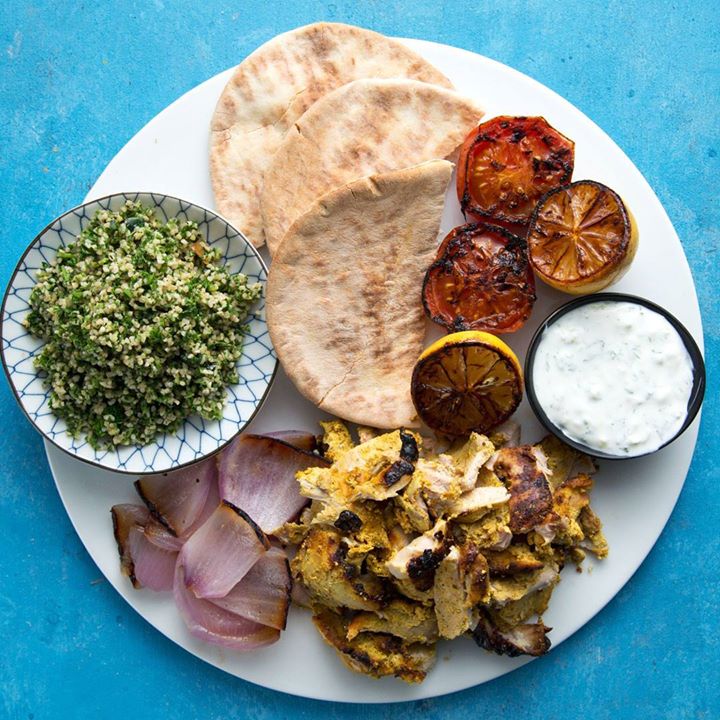 Ingredients
8 boneless, skinless chicken thighs
3 large red onions, halved
Large skewer
For the marinade:
1 cup Greek yogurt
2 medium lemons, juiced
1 tablespoon cumin
1 tablespoon za'atar
1 teaspoon smoked paprika
1 teaspoon turmeric
1 teaspoon garlic powder
½ teaspoon cayenne pepper
Salt and pepper, to taste
For serving:
Pita
Tabbouleh
Tzatziki
Grilled tomatoes
Lemon wedges
Instructions
Make the marinade: In a large bowl, combine all marinade ingredients and stir to combine. Add chicken thighs and mix to coat. Cover and refrigerate for 1 hour.
Prepare the skewer: Preheat oven to 400 degrees.
Cut a large red onion in half horizontally. Remove the skin and place face down on a baking sheet. Place the thick skewer into onion half. Layer each chicken thigh on the skewer until they are all stacked on top of each other. Place other onion half on top of the skewer. Spread remaining onions around baking sheet. Bake for 1 hour. Use a sharp knife to cut chicken off skewer. Serve with pita and other sides. Enjoy!
Watch the recipe video here:
Stack up the flavor, then assemble to your liking with this homemade chicken shawarma.Full Recipe: taste.md/2t9B1ST

Posted by Tastemade on Sunday, March 4, 2018