Creamy Chicken Fajita Pasta
Everyone likes pasta. It's without a shadow of a doubt the world's greatest carb, sublime with sauce and tremendous with cheese. Here at Twisted we particularly like our pasta with chicken (SORRY ITALY) and cream, and this culinary twist brings that combination up to new levels of deliciousness. Creamy, spicy, meaty - what's not to love?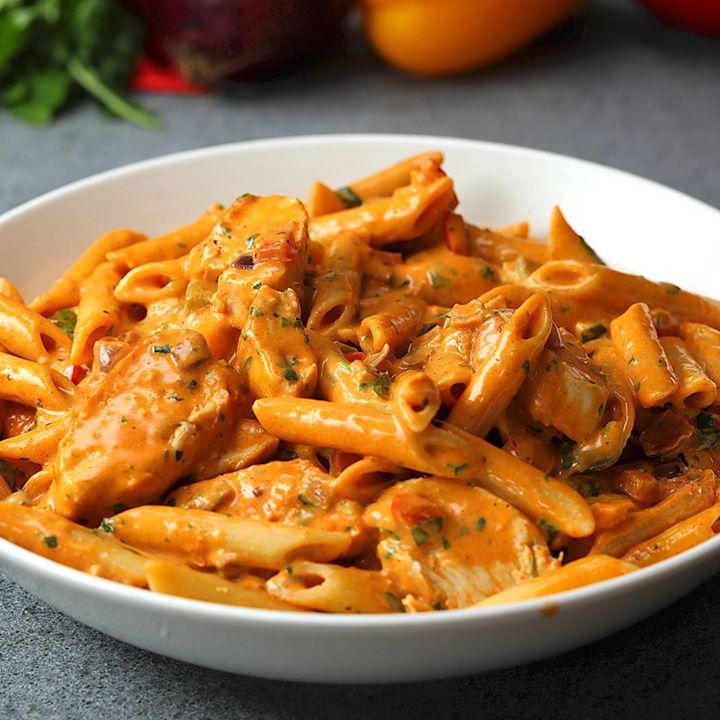 Ingredients
1 tbsp vegetable oil
3 medium chicken breasts
1 tbsp butter
1 red onion, diced
3 mixed peppers, diced
3 cloves garlic, finely diced
1 tsp salt
1 tbsp smoked paprika
1 tbsp cumin
1 tsp cayenne pepper
1 tsp garlic powder
1 tsp black pepper
1 cup chicken stock
1 cup double cream
½ cup cream cheese
1½ cups grated red cheddar
2 tbsp parsley, finely chopped
1 large packet penne, cooked al dente
Instructions
Using a heavy bottomed, deep sided frying pan heat the oil and fry the chicken breasts for around 4 - 5 minutes on each side - you want a real colour on them. Remove from the heat and pop in the oven for another 5 minutes to cook through. Slice into thin slices.
Meanwhile, heat the butter in the same pan then add the onion and peppers and fry until soft. Add the garlic and fry for another minute or so, then add the spices and seasoning.
Stir everything together then pour in the stock, cream, cream cheese and stir. Bring to a bubble and stir in the cheese, then re add the chicken, pasta and parsley and stir it up again and serve.
Watch the recipe video here: