Oh, Cod!
Goes well with asparagus.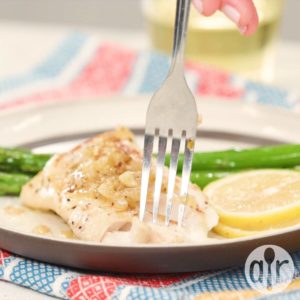 Ingredients
2 tablespoons olive oil
½ onion, chopped
1 clove garlic, chopped
1 teaspoon lemon pepper
1 (3 ounce) fillet cod, or more to taste
2 tablespoons dry white wine
1 tablespoon grated Parmesan cheese, or to taste (optional)
Instructions
Heat olive oil in a large frying pan over medium-high heat; cook and stir onion, garlic, and lemon pepper until onion is slightly tender, about 3 minutes. Add cod to the frying pan, flipping the cod over to coat both sides with oil.
Cook cod in the onion mixture until it flakes easily with a fork, occasionally sliding fish around so it doesn't stick, about 4 minutes per side.
Pour wine into the frying pan and bring to a boil while scraping the browned bits of food off of the bottom of the pan with a wooden spoon. Slide the cod around the pan, flip it over, and slide around again until coated in wine, about 1 minute.
Transfer cod to a serving plate; top with onion mixture and Parmesan cheese.
Watch the recipe video here: