Croque Monsieur Pasta Bake
Croque Monsieur, or "crispy mister" en francais - bechamel, mustard, Swiss cheese and ham. Normally a sandwich, but perfectly suited to that other carby vehicle, pasta. Yes please!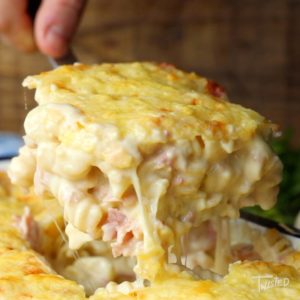 Ingredients
70g butter
2 garlic cloves, crushed
50g plain flour
800ml milk
500g fussilli, cooked to packet instructions
200g thinly sliced ham, chopped
2 tbsp dijon mustard
1 tbsp salt
1 tsp white pepper
400g gruyere, half grated half cut into chunks
200g emmental
Instructions
Preheat the oven to 180°C.
In a large saucepan, heat the butter until foaming and fry the garlic until fragrant. Add the flour and cook out for around 20 seconds.
Add the milk slowly, beating it in thoroughly as you go. Use a whisk if necessary. Bring to the simmer and take off the heat.
Add the pasta, ham, mustard, seasoning and stir thoroughly, then add the gruyere and fold it in.
Pour half into an ovenproof dish and add the gruyere cubes and top with the rest of the pasta.
Sprinkle the emmental on top and bake for around 30 minutes.
Watch the recipe video here: