Cheesy Bacon-Tater Tot Pie
Cheesy Bacon-Tater Tot Pie recipe.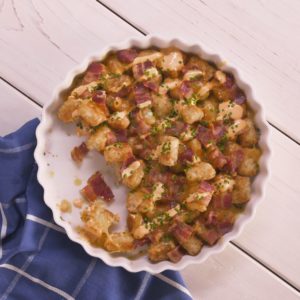 Ingredients
1 pound (about 3 cups) frozen Tater Tots
Nonstick cooking spray
4 slices bacon
1 cup shredded cheddar cheese (about 4 ounces)
¼ cup sour cream
¼ cup mayonnaise
2 tablespoons Sriracha
Chopped fresh chives, for topping
Instructions
Bake the Tater Tots as the label directs. Reduce the oven temperature to 400 degrees F and lightly coat a 9-inch pie plate with cooking spray.
Cook the bacon in a medium skillet over medium-low heat, turning once, until crisp, about 8 minutes. Remove to a paper towel-lined plate to drain, then roughly chop.
Lightly press the Tater Tots into the prepared dish. Top with the cheese and bacon. Bake until the cheese melts, about 5 minutes.
Meanwhile, combine the sour cream and mayonnaise with the Sriracha. Drizzle the pie with the spicy mayonnaise and sprinkle with chives.
Watch the recipe video here: