Pepperoni Bread
Everyone loves this! It's so easy and always comes out wonderful. Who could resist the delicious taste of pizza?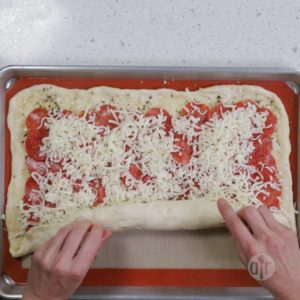 Ingredients
1 (1 pound) loaf frozen bread dough, thawed
1 egg, beaten
4 ounces sliced pepperoni sausage
1 cup shredded mozzarella cheese
¼ cup grated Parmesan cheese
1½ teaspoons Italian seasoning
Instructions
Preheat oven to 375 degrees F (190 degrees C). Lightly grease a baking sheet.
Roll frozen bread dough out into a rectangle. Brush dough with beaten egg. Arrange pepperoni, mozzarella cheese and parmesan cheese over the dough. Sprinkle on the Italian seasoning. Roll up dough like a jelly roll and pinch seam to seal; place, seam side down, on prepared baking sheet.
Bake in preheated oven for 40 minutes, or until golden.
Watch the recipe video here: