Chocolate Inception Brownies
A dream within a dream within a dream. That is what this dessert is. Hopefully, you've seen the incredible movie Inception before reading this because otherwise, you will have no idea what I'm saying. If you do understand then you'll definitely agree. Recipes like this make me wonder what genius thought this up. If I found this person I'd probably give them a thank you kiss!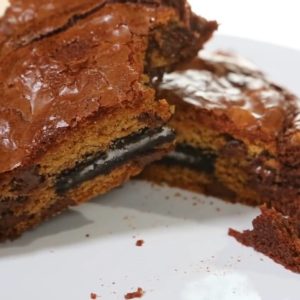 Ingredients
Chocolate Chip Cookies
2¼ Cups Flour
1 tsp Salt
1 tsp Baking Soda
¾ Cup Brown Sugar, firmly packed
¾ Cup Granulated Sugar
1 Cup Butter, softened
1 tsp Vanilla Extract
2 Eggs
1 (12 oz) Package Semi-Sweet Chocolate Chips
Brownies
1 Box Brownie Mix
¼ Cup Water
⅔ Cup Vegetable Oil
2 Eggs
Cookies for Stuffing
Instructions
Chocolate Chip Cookies
Combine flour, salt and baking soda in a bowl and stir together.
Combine brown sugar, granulated sugar, butter and vanilla in a separate bowl.
Beat until creamy.
Add eggs to wet mixture and beat until thoroughly combined.
Slowly add dry ingredients to wet mixture beating after each addition until dough forms.
Add chocolate chips and fold into batter using a spatula.
Set aside.
Brownies
Preheat oven to 350°F / 180°C.
Spray 9 x 13 inch pan with non-stick cooking spray.
Combine brownie mix, water, oil and eggs and beat until well blended.
Stuffing the Cookies
Pour half of brownie batter in 9 x 13 inch pan and spread to cover entirely.
Take about 2 Tbsp of cookie dough and completely cover 1 Oreo at a time until all dough is used.
Place in pan on top of brownie batter.
Cover stuffed chocolate chip cookies with remaining brownie batter.
Bake 45 minutes or until toothpick inserted in middle of brownies comes out almost clean.
Remove from oven & cool for 20 minutes before cutting and serving.
Watch the recipe video here: