We're Nuts About This Vegan Cheesecake!
We're totally nuts about this creamy, dreamy, vegan cheesecake! ???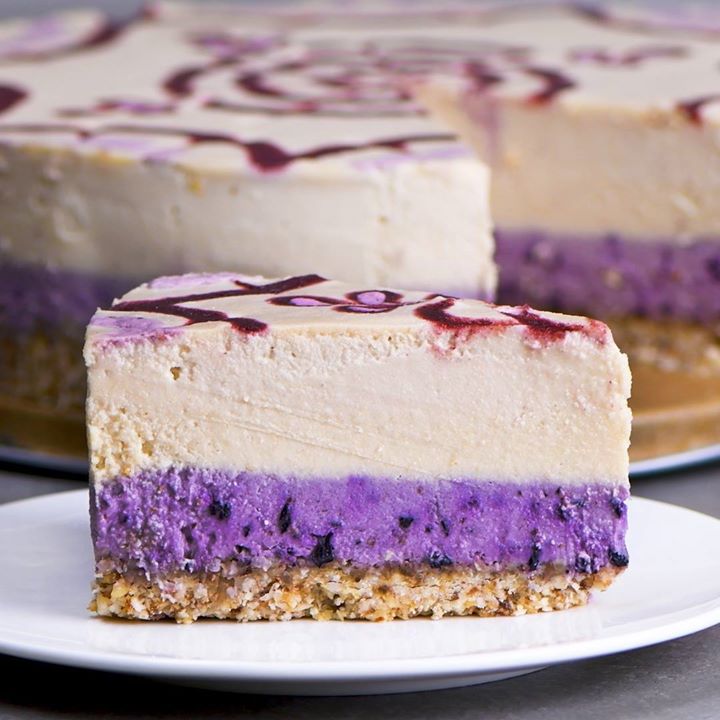 Ingredients
Crust
1 cup raw walnuts
1 cup raw almonds
10 medjool dates. pitted
3 TBS melted coconut oil
¾ cup shredded unsweetened coconut
¼ tsp sea salt
Filling
3½ cup raw cashews (soaked 3 hrs or overnight)
1 cup coconut cream
¾ cup maple syrup
½ cup lemon juice
½ cup melted coconut oil
2 tsp vanilla
1 cup blueberries
Instructions
Blend
mins
Using a food processor blend crust ingredients until fine crumbs. Pour into a 9in springform cake pan. Press down and smooth out with the back of a measuring cup. Set aside.
Blend
mins
In a high power blender, blend together all the fillings except the blueberries until very smooth. Set aside half of the mixture.
Add
mins
Add blueberries to the remainder of the batter in the blender and blend until smooth.
Pour
mins
Pour the blueberry mixture onto the crust. Then pour the white mixture on top of the blueberry mixture.
Let Freeze
-20 minutes
Let freeze. Take out of freezer 15-20 minutes before serving.
For the Fruity Design:
Save or make extra white filling. Then add natural colorants.
For lavender color add a little blueberries.
For dark red color add beet juice and blueberries or raspberries.
Watch the recipe video here: