Fruity Pebbles Cheesecake
The new way to eat cereal.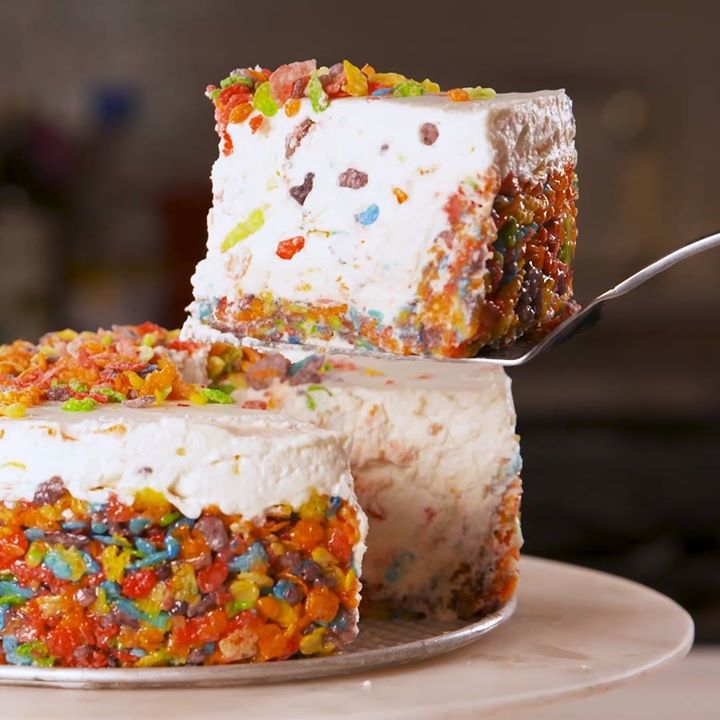 Ingredients
FOR THE CRUST
1 (10-oz.) bag marshmallows
½ c. (1 stick) butter
5 c. Fruity Pebbles
FOR THE CHEESECAKE
2 (8-oz.) blocks cream cheese, softened
½ c. sugar
1 tsp. vanilla extract
Pinch of kosher salt
2 c. Cool Whip
½ c. Fruity Pebbles, plus more for garnish
Instructions
In a large saucepan over medium heat, melt marshmallows and butter, stirring to combine. Remove from heat and stir in Fruity Pebbles.
Coat a springform pan with cooking spray, then press mixture into pan and up the sides. Let cool.
Meanwhile, make filling: In a large bowl using a hand mixer, beat together cream cheese and sugar until light and fluffy, then add vanilla and salt. Stir in whipped heavy cream until no lumps remain, then fold in Fruity Pebbles.
Spoon filling into cooled crust and refrigerate until set, at least 4 hours and up to overnight.
Remove cheesecake from pan and garnish with more Fruity Pebbles before slicing and serving.
Watch the recipe video here: