Chocolate Peanut Butter No Bake Pi
This no-bake peanut butter chocolate pie is absolutely to die for! It's so rich and creamy, you will just melt after one bite! It's also super easy to make! And the fact that it's a no bake is awesome! Have this recipe in the books for birthdays..events..any occasion! It's perfect!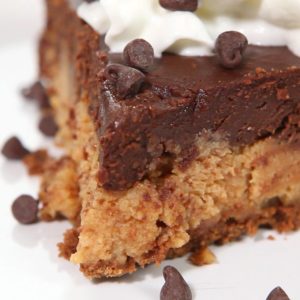 Ingredients
1 chocolate Oreo cookie pie crust
Peanut Butter Pie Filling
1 CUP Smooth peanut butter
½ CUP Greek yogurt
⅕ CUP Sweetened condensed milk
Chocolate Pie Filling
½ CUP Heavy Whipping Cream
12 oz Milk chocolate chips
Instructions
In a medium bowl stir together the peanut butter, Greek yogurt, and sweetened condensed milk.
Spoon the peanut butter pie filling into the prepared chocolate Oreo cookie pie crust.
Melt the chocolate chips with about 2 tablespoons of heavy cream in the microwave for about 30 seconds at a time.
May have to repeat 3 times or so. Set aside.
In another bowl or stand mixer whip the remaining heavy cream until it forms soft peaks.
Add ½ cup whipped cream to the melted chocolate and stir until combined.
Pour the chocolate pie filling on top of the peanut butter layer. Let chill in the refrigerator overnight.
The next day remove the Chocolate Peanut Butter pie from the refrigerator and let it sit for about 5 minutes.
Slice and serve topped with whipped cream.
Enjoy!
Watch the recipe video here: