Friendship Cookies
It's Sibling's Day!!! My mom used to make friendship cookies for my brother and me on the regular. These seemed to always bring us together. She seemed to always make them on the days we needed them the most, too. I will never forget the scent of her taking them fresh out of the oven… SO yummy!! So enjoy the simplicity of these DELICIOUS friendship cookies. Maybe they can bring joy to your family like they did mine!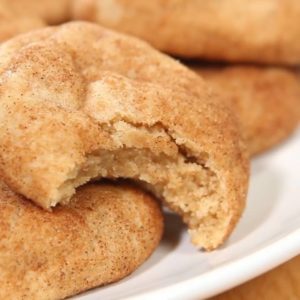 Ingredients
1 Cup Butter, room temperature
¾ CUP Granulated sugar
½ CUP Light brown sugar
1 egg, plus 1 yolk
1 TBSP Vanilla
1 TSP Baking soda
1 TSP Cream of tater
½ TSP Kosher salt
1 TSP Cinnamon
2¾ CUP Flour
Cinnamon Sugar
¼ CUP Granulated sugar
1 TBSP Cinnamon
Instructions
Preheat oven to 325°F.
Spray baking sheet with nonstick spray. set aside.
In the bowl of stand mixer, beat butter and both sugars until light and fluffy, 2-3 minutes.
With mixer on medium speed add in egg, yolk, and vanilla and beat for another minute, scraping the sides as necessary.
Turn mixer to medium-low and mix in baking soda, cream of tartar, salt and 1 tsp cinnamon. Mix for 30 seconds, scraping sides as necessary.
Turn mixer to low and add in flour, mixing until just combined.
In a separate small bowl make your Cinnamon Sugar by mixing together cinnamon and sugar, stirring until evenly combined.
Using a cookie scoop or spoon, measure out about 2 Tbsp of dough and roll into a ball. Then roll each cookie dough ball into the Cinnamon Sugar mixture.
Place on prepared baking sheet about 2 inches apart.
Bake for 10-12 minutes, turning cookie sheet halfway through baking.
Remove from oven.
Enjoy!
Watch the recipe video here: