Marshmallow Creme-Filled Bundt Cake
Everyone has a favorite snack cake from childhood. If the Twinkie was yours, you will love this bundt version. The iconic yellow cake gives way to a fluffy cream filling.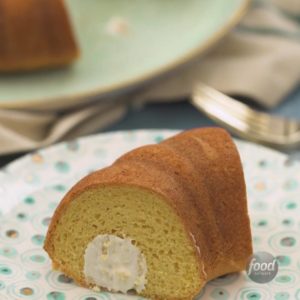 Ingredients
One 15.25-ounce box yellow cake mix (plus required ingredients)
6 large egg whites, beaten to stiff peaks
6 tablespoons unsalted butter, at room temperature
1 cup marshmallow creme
½ cup confectioners' sugar
1 tablespoon heavy cream
Instructions
Special equipment: a 12-cup bundt pan and a piping bag fitted with a long thin round tip
Prepare a 12-cup bundt pan according to the cake mix package directions. Mix the cake according to the package directions. Fold the egg whites into the batter with a rubber spatula until fully combined. Pour the batter into the prepared bundt pan and bake according to the package directions. Let cool completely.
Combine the butter and marshmallow creme in a large bowl and beat with an electric mixer until smooth and well combined. Add the confectioners' sugar and cream and beat until fluffy, about 3 minutes. Put the marshmallow mixture into a piping bag fitted with a long thin round tip.
Flip the cake so it is flat-side up and make 12 evenly-spaced holes in the bottom of the cake using a skewer, pressing only halfway down into the cake and wiggling the skewer slightly to widen the holes until they are each about 1 inch wide. Insert the piping tip in each of the hollowed-out holes and pipe in some marshmallow mixture until it starts to ooze out the top of the hole. Flip the cake flat-side down onto a cake stand or serving platter. Serve immediately or cover and refrigerate for up to 2 days.
Watch the recipe video here: