Fluffy Chocolate Lava Pancakes
Fluffy pancakes AND melted chocolate? The perfect breakfast! ??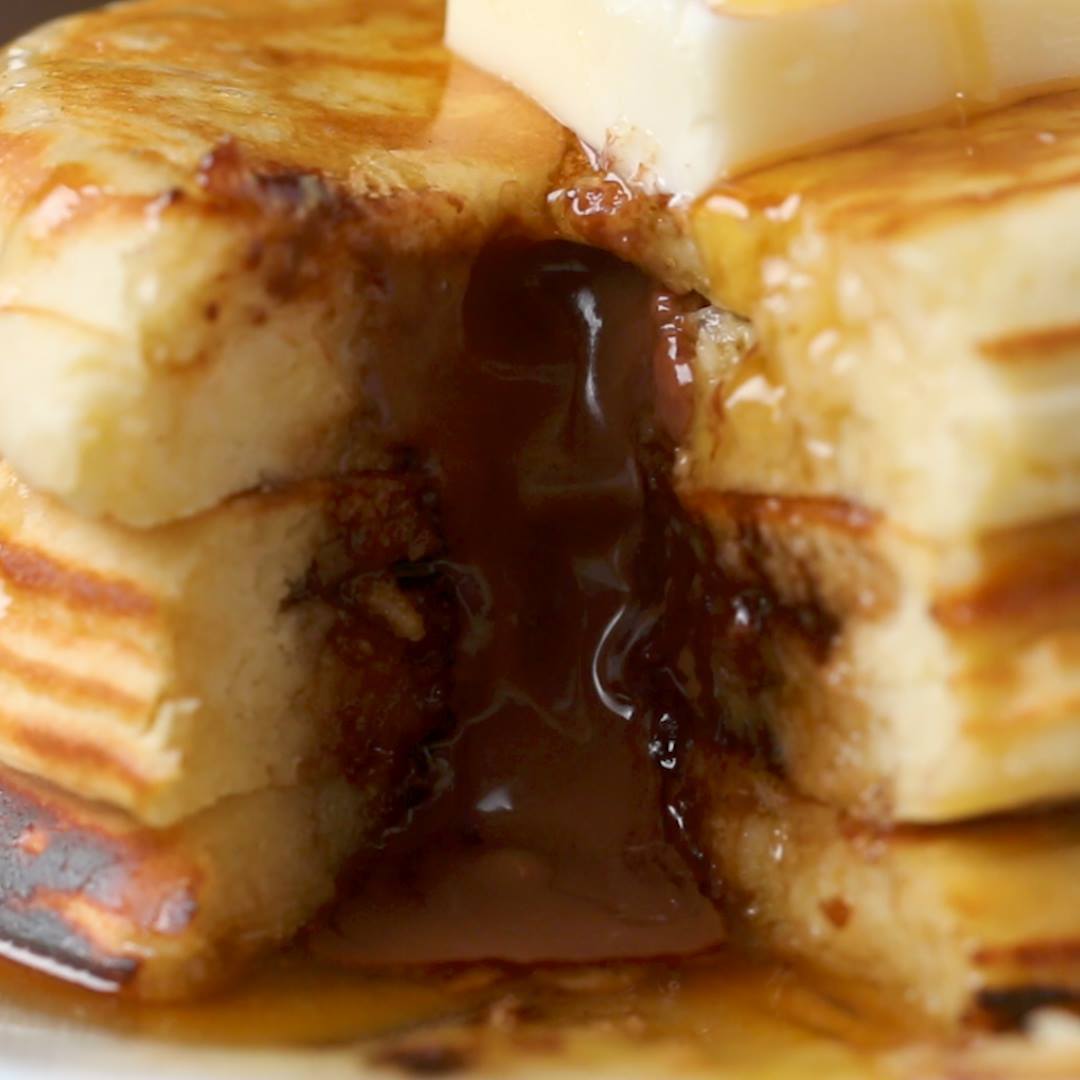 Ingredients
1 cup (240 mL) heavy cream, hot
1 cup (170 g) dark chocolate
2 egg yolks
2 tablespoons white sugar
3 tablespoons butter, melted
1 ½ cups (360 mL) milk
2 cups (250 g) all-purpose flour
2 teaspoons baking powder
1 teaspoon salt
4 egg whites
TOPPINGS (OPTIONAL)
maple syrup
powdered sugar
fresh berries
butter
Instructions
Add the dark chocolate into the heated heavy cream. Mix both together until the chocolate fully melts forming a chocolate ganache.
Pour the ganache into mason jar lid rings that are laying on a parchment paper-lined sheet tray. Freeze the chocolate ganache for at least 15 minutes to firm up.
In a large bowl, add the egg yolks, sugar, and melted butter, whisk until smooth. Add in the milk, whisk again. Then sift in the flour, baking powder and salt.
Whisk the dry ingredients into the wet until as smooth as possible. Small lumps are perfectly fine.
Beat the egg whites until stiff peaks form and then fold them into the pancake batter until just combined.
In a small skillet, melt butter until bubbling and then add your pancake batter. Take chocolate ganache disc straight from the freezer and place on top of the batter and press in down to the center. Put another layer of batter over the top.
Cover the skillet with a lid and let the pancakes cook on low heat for 20-30 minutes or until the top has full set. Then flip the pancake and cook the other side for 2 minutes on medium heat to color the other side.
Serve with butter, maple syrup, powdered sugar, or berries (optional).
Enjoy!
Watch the recipe video here:
Fluffy Chocolate Lava Pancakes

Fluffy pancakes AND melted chocolate? The perfect breakfast! ??FULL RECIPE: https://tasty.co/recipe/fluffy-chocolate-lava-pancakes

Posted by Proper Tasty on Saturday, June 16, 2018