Classic Coffee Cake
You guys, I have FINALLY found the most delicious coffee cake recipe and can't wait to share it! Seriously, I've tried to make coffee cake before, and I have had problems with it coming out either too dry or not flavorful enough. Well, this coffee cake has ALL the flavors and is super moist! It also feeds plenty so it's great to bring to any brunch event! Starbucks has nothing on this!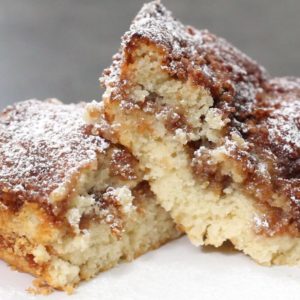 Ingredients
1 CUP Oil
2 Eggs, beaten
1 tsp Vanilla
1 CUP Milk
1 CUP Sugar
3 CUP Flour
3 tsp Baking powder
½ tsp Salt
1½ CUP Brown sugar
2 tsp Cinnamon
½ CUP Margarine, melted
Instructions
In a large mixing bowl. combine oil, eggs, vanilla and milk together.
In a medium bowl, blend together sugar, flour, baking powder and salt.
Combine egg mixture with flour mixture. Pour half the batter into a 9×13 pan.
In a medium bowl, prepare streusel by combining brown sugar and cinnamon.
Sprinkle half of streusel on top of the batter. Top with remaining batter and then sprinkle the remaining streusel on top.
Drizzle with melted margarine.
Bake, uncovered at 350°F for 25-30 minutes.
Watch the recipe video here: