Banana Split Cake
Can't seem to finish your banana split before it melts? Why not try a decadent banana split cake instead?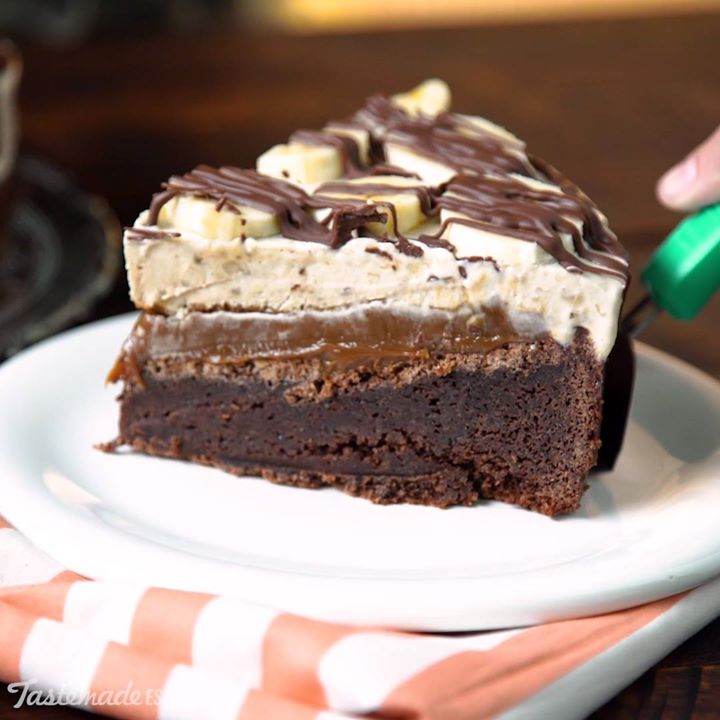 Ingredients
10 ounces semisweet chocolate
¾ cup butter
6 eggs
2¼ cups sugar
Vanilla extract as needed
2 cups flour
¼ cup cocoa powder
1 teaspoon salt
½ teaspoon baking soda
For the mousse:
2 bananas
Juice from ½ lemon
3 egg yolks
½ cup sugar
1 cup heavy cream
3¼ teaspoons flavorless gelatin
¼ cup water
To finish:
Dulce de leche
2 bananas, sliced
Chocolate sauce
Instructions
Preheat oven to 350 degrees, and grease a springform pan with butter.
In a large glass bowl over a double boiler, melt the chocolate and butter together. Remove from heat and add eggs, sugar and vanilla. Sift in the flour and cocoa powder, then add the baking soda and salt. Stir to combine, then pour into prepared pan. Bake for 18 minutes, then allow to cool.
In a large mixing bowl, mash the bananas, then add the lemon juice, egg yolks and sugar. Mix to combine, then add the heavy cream and stir until combined.
In a small bowl, combine the gelatin with cold water until gelatin is dissolved. Add a small amount of the banana mixture to the gelatin and stir before pouring the contents into the larger bowl.
Add a layer of dulce de leche on top of the cake and use a spatula to spread evenly. Pour the banana mixture on top, then place the cake in the refrigerator to set.
Remove from fridge and top with sliced bananas and chocolate sauce.
Watch the recipe video here:
Because calories don't count on the weekend.Taste for Yourself: taste.md/2zdATUc?: Tastemade Español

Posted by Tastemade on Sunday, April 8, 2018