Jalapeño Popper Chicken
This chicken is POPPIN' OFF!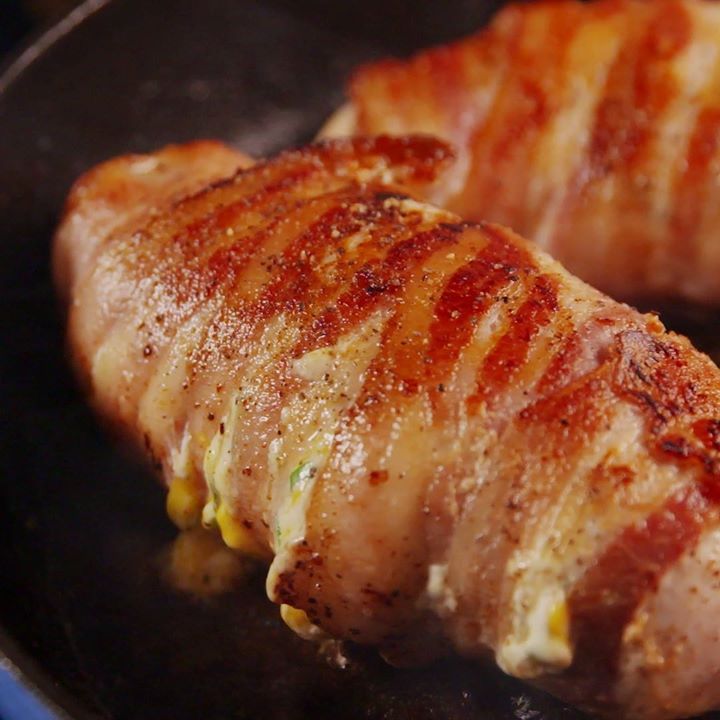 Ingredients
6 oz. cream cheese, softened
1 c. shredded Cheddar
⅓ c. Sliced green onions
2 cloves garlic, minced
1 jalapeño, minced
kosher salt
Freshly ground black pepper
4 boneless skinless chicken breasts
12 slices bacon
Instructions
In a large bowl, stir together cream cheese, cheddar, green onions, garlic, and jalapeño and season with salt and pepper.
Make a pocket on the side of each chicken breast, making sure not to slice entirely through the breast. Stuff chicken with cream cheese mixture. Place 3 slices of bacon on a cutting board. Place chicken breast on top and wrap chicken breast in bacon.
Preheat a large cast-iron skillet over medium heat. Add bacon-wrapped chicken and season with more pepper. Cook until bacon is crispy and chicken no longer pink, 10 minutes per side, turning with tongs to make sure to get all sides of the bacon cooked.
Watch the recipe video here: