Chicken Fried Steak Fingers
Gravy. Dipping. Sauce.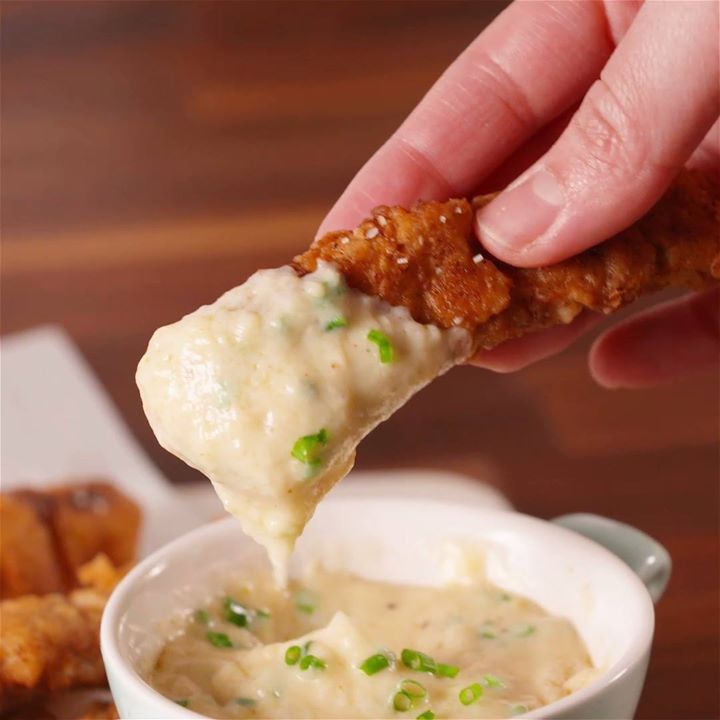 Ingredients
FOR THE FRIED STEAK FINGERS
1½ lb. cube steak
1 c. all-purpose flour
1 tsp. garlic powder
1 tsp. onion powder
¼ tsp. paprika
½ tsp. cayenne pepper
kosher salt
Freshly ground black pepper
¾ c. whole milk
2 large eggs, beaten
Vegetable oil, for frying
FOR THE GRAVY
4 tbsp. butter
3 tbsp. all-purpose flour
1¼ c. whole milk
1 tbsp. finely chopped chives
kosher salt
Freshly ground black pepper
Instructions
Slice steak into thin long strips about ½" thick. Set aside.
Set up a dredging station: In a shallow bowl, combine flour, garlic powder, onion powder, paprika and cayenne, and season with salt and pepper. In a second shallow bowl, whisk together milk and eggs. Season steak with salt and pepper. Working in batches, dredge the steak strips thoroughly in the flour mixture then add them to the egg mixture and turn the pieces to coat. Return steak to the flour and dredge once more.
In a Dutch oven or large deep skillet, add about 1" of vegetable oil and heat over medium heat. When the oil is shimmering (it should be about 350°), place the steak strips, one by one, into the oil with tongs. Cook until golden all over, about 2 minutes per side. Place them on a plate lined with paper towels to drain off any excess grease.
Make gravy: In a small skillet over medium heat, melt butter. When the butter is foamy, whisk in flour and cook mixture until the flour is golden, about 1 minute. Gradually whisk in milk and bring mixture to a boil. Reduce heat to gently simmer the gravy until thickened. Stir in chives and season with salt and pepper to taste.
Serve the chicken fried steak "fries" warm with gravy for dipping.
Watch the recipe video here: