Chicken Alfredo Dip With Garlic Dippers
One of our favourite pasta flavours served with crispy garlic bread is something you can count us in on! This warm dip takes minutes to put together and it's a sure hit with these garlic bread dippers. Using soft white bread and rolling it out flat they bake up and get super crispy just like crackers!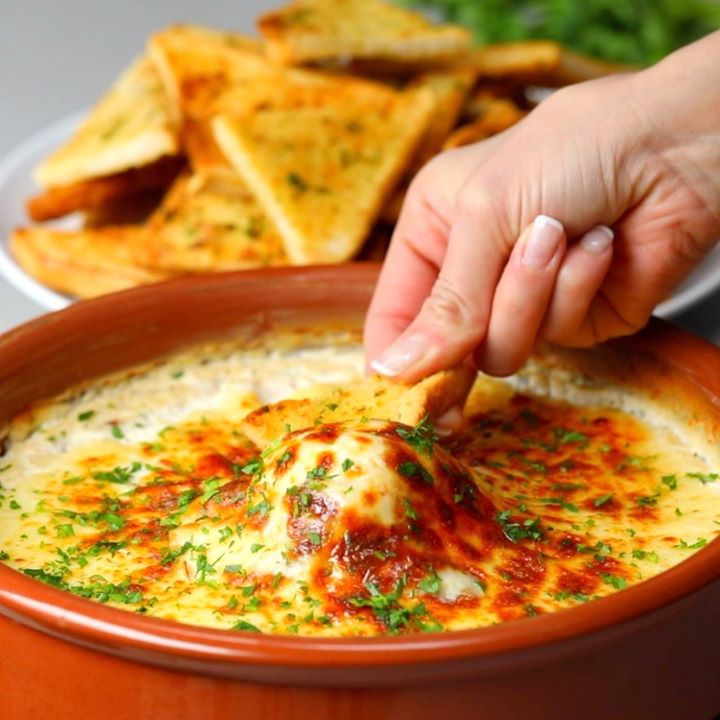 Ingredients
1 loaf soft white bread
¾ cup melted garlic butter
1¾ cup sour cream
1 cup cream cheese, softened
1½ cups shredded chicken
8 rashers bacon, chopped and cooked
1 tsp chopped parsley
½ cup grated parmesan
1 cup grated mozzarella, split
1 tsp garlic powder
1 tsp pepper
Instructions
Preheat oven to 180ºC (350ºF).
Roll slices of bread flat. Brush with garlic butter on both sides. Cut into four triangles, corner to corner.
Place flat on a baking sheet and bake for 20 minutes flipping half way through until golden brown and crisp.
In a large bowl, mix together sour cream, cream cheese, chicken, bacon, parmesan, ½ cup mozzarella, parsley, pepper and garlic powder. Transfer to a baking dish, sprinkle with remaining mozzarella cheese and cover with foil. Bake for 20 minutes then remove foil and grill for 5 minutes.
Sprinkle with extra parsley, dip garlic bread and enjoy!
Watch the recipe video here: