Mini Chicken Fajita Tacos
Fajitas are great for a party but these mini fajita's tacos are perfect for appetisers too! Quick to prepare and so fun to make and eat. Top them with cheese and serve with a variety of dips!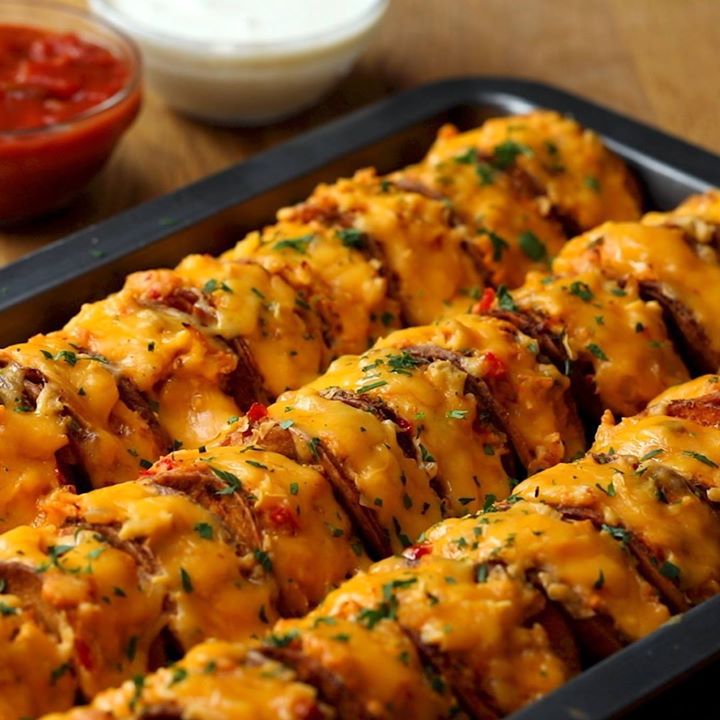 Ingredients
2 cups shredded cooked chicken
½ cup cooked mixed peppers
½ cup cooked onions
3 tbsp fajita spice
1 cup cream cheese
1½ cup grated cheddar, split
1 cup butter
5-6 large tortillas
Chopped parsley
Instructions
Preheat oven to 400F (200C).
Cut 4-5 rounds out of each tortilla shell with a cookie cutter to get about 30 shells.
In a bowl, mix together and 1½ tbsp fajita spice. Toss each tortilla round in butter mixture to coat.
Flip a muffin tin upside down. Place the tortilla pieces in between muffin cups. Bake 5-6 minutes until just golden brown. Takeout and let cool.
In a large bowl mix chicken, peppers, onion, remaining fajita spice, cream cheese, and ¾ cup grated cheddar. Fill each taco with a spoonful of mixture. Top with grated cheese. Arrange on a tray and bake for 5-6 minutes until cheese has melted.
Enjoy!
Watch the recipe video here:
Mini Chicken Fajita Tacos

Posted by Twisted on Thursday, March 1, 2018