Bacon Cheeseburger Braid
It's like a giant cheeseburger to share with a crowd. The cheeseburger mix is intertwined between soft bread and surrounded in layers of gooey cheese. Serve it up with burger sauce it you're up for it.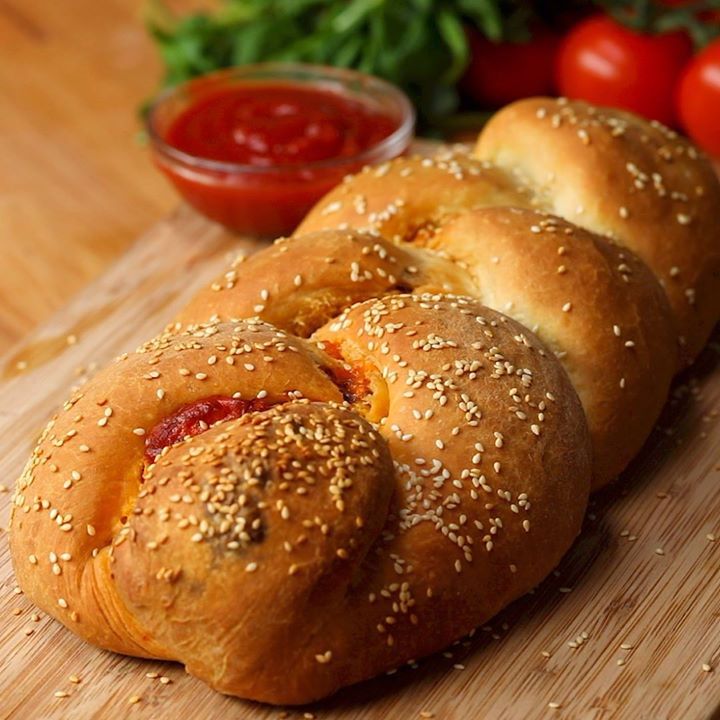 Ingredients
500g beef mince, cooked
½ cup crispy bacon bits
½ cup ketchup
2 tsp garlic powder
1 tsp pepper
500g pizza dough
2 cups grated cheddar cheese
Oil
Sesame seeds
Ketchup
Instructions
Pre-heat oven to 200ºC. n a large bowl mix together mince, bacon, ketchup, garlic powder and pepper.
Split dough into 200g balls. On a floured surface, roll each ball into a tube. Roll to flatten Ito a long strip about 8".
Sprinkle cheese down the centre of each strip. Top with burger mixture and top with another layer of cheese.
Bring edges together and pinch to seal.
Place three rolls together and pinch to attach and one end. Braid dough to form a plait.
Brush with oil and sprinkle with sesame seeds.
Bake for 30 minutes until golden brown.
Enjoy!
Watch the recipe video here:
Bacon Cheeseburger Braid

Posted by Twisted on Saturday, February 10, 2018