Butter Chicken Slab Pie
You may know it as chicken tikka masala, murgh makhani or butter chicken. Vaguely related to a dairy heavy Punjabi dish, these incarnations have morphed into the bizarre Anglo-Indian darling of your local Indian restaurant, the undisputed queen of British colonial mash ups. It's always creamy, containing luminous chunks of charred chicken, as ubiquitous in curry houses now as bizarre mood lighting and dodgy fish tanks. Allegedly the 'original' version, born in 1950s Glasgow, contained tinned tomato soup. Whatever its murky yet spicy origins it's an undisputed classic, and works extremely nicely in a slab pie, scattered with nigella seeds for a bit of naan nostalgia.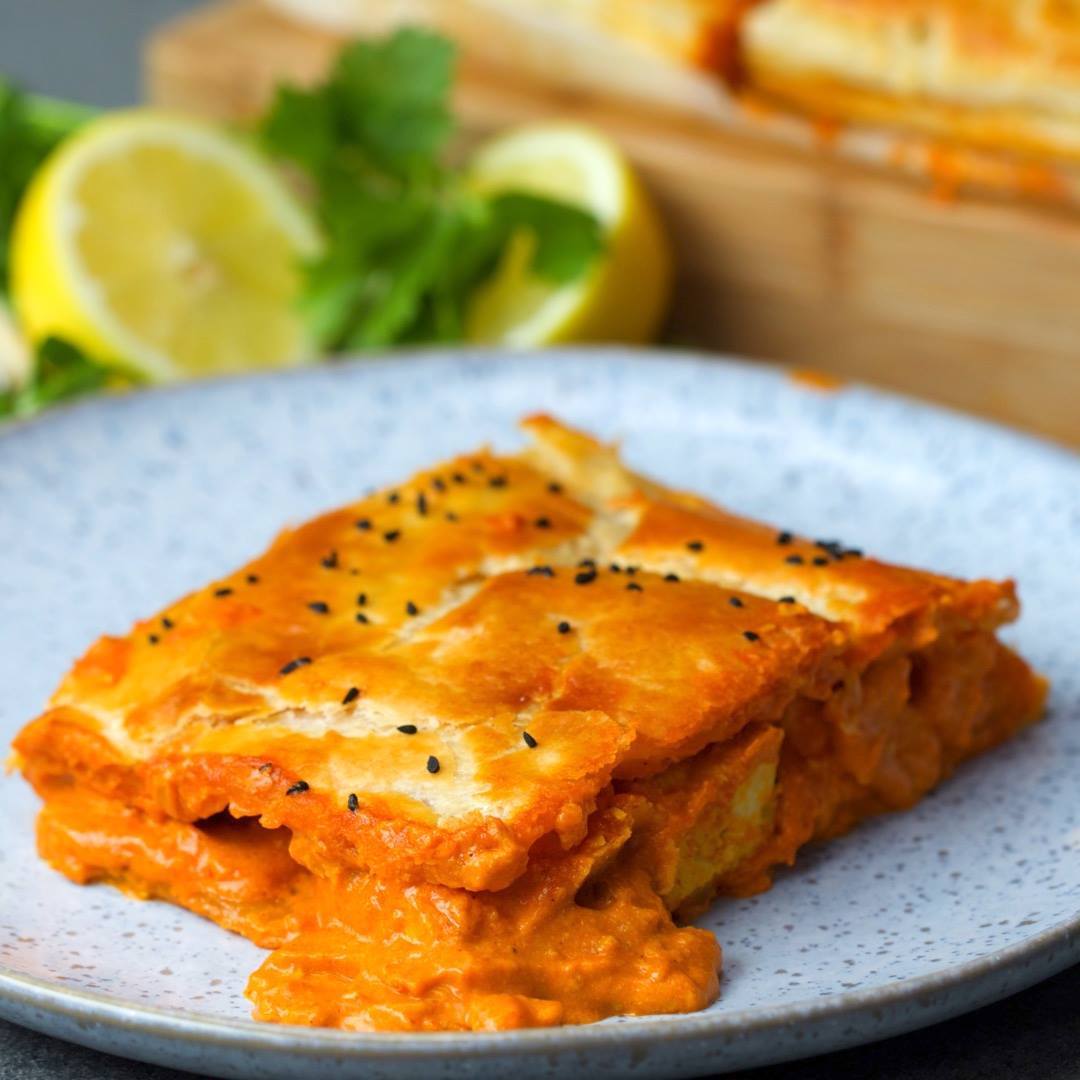 Ingredients
Chicken marinade:
3 large chicken breasts, diced into 2cm chunks
1 tbsp maldon salt
300g yoghurt
1 tbsp vegetable/groundnut oil
2 tbsp tikka spice
The curry:
3 tbsp vegetable/groundnut oil
2 tbsp salted butter
1 onion, finely chopped
4 tbsp garlic ginger paste
300ml tomato passata
3 tbsp tomato puree
300ml double cream
1 tbsp sugar
juice ½ lemon
3 tbsp tikka spice
50g salted butter
1 tsp maldon salt
The pie
2 large sheets puff pastry
1 egg, beaten
Handful nigella seeds
Instructions
Mix the chopped chicken, yoghurt, salt, oil and the tikka spice. Cover and leave to marinate for at least 3 hours, preferably overnight.
Place on a grill tray over a baking tray and grill on the highest possible heat for around 10 minutes, turning halfway through, until cooked through and nicely charred. If you have one and you're in the mood then grill over direct heat on a charcoal grill - the results will be infinitely more delicious.
Preheat the oven to 200°C/400°F.
Heat the oil and butter and gently fry the onion until soft, then fry the garlic and chilli paste for a further minute. Pour in the passata and double cream and stir everything together. Add the tikka spices, sugar, butter and lemon and stir again, then add the chicken chunks and turn off the heat.
Spoon the curry over one of the sheets of puff pastry (do it in a large baking tray to make your life easier), making sure the chicken is evenly distributed. Brush around the edge with egg wash and lay the other sheet of pastry on top. Brush with egg wash and sprinkle with nigella seeds and bake for around half an hour until the pastry has puffed up nicely.
Watch the recipe video here:
Butter Chicken Slab Pie

Posted by Twisted on Monday, June 4, 2018