Tater Tot Grilled Cheese
We'll take tots over bread any day.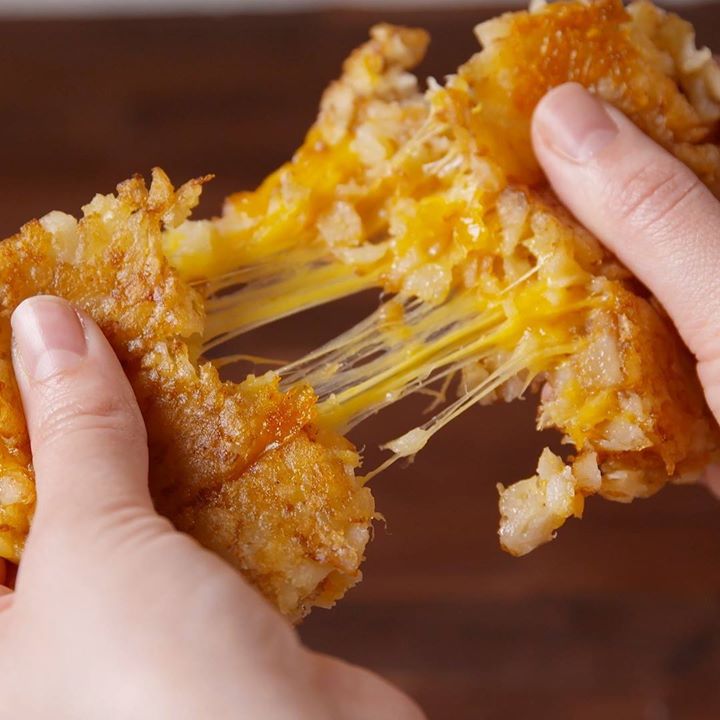 Ingredients
12 frozen tater tots, defrosted
½ c. shredded Cheddar
Cooking spray
Instructions
Heat large nonstick skillet over medium heat and grease it with cooking spray.
Arrange 6 tater tots in a rectangle, side-by-side, on one side of the skillet. Repeat to make another rectangle with remaining tater tots on the other side of the skillet.
With a large spatula (preferably metal) press down hard on each tater tot rectangle to form a flat square patty. You may need to press down repeatedly to help the tater tots hold together. Cook until the bottom sides of the tater tots begin to crisp, about 3-5 minutes. Sprinkle each square with cheese (this helps everything stay together!) then cover the pan with a tight fitting lid and continue cooking the tater tots until the cheese is melted.
Use a spatula to carefully flip one cheesy square onto the other to form a sandwich. Press down again with the spatula and continue to cook the sandwich until both sides are crispy, about 3 minutes more.
Watch the recipe video here: