Cookies-and-Cream Stuffed Pound Cake
What's better than pound cake? A stuffed pound cake, that's what. A rich, cookies-and-cream filling takes a prepared pound cake to the next level. For this recipe, check the supermarket bakery for a pound cake on the larger side; alternatively, if you go with a smaller loaf cake (like a Sara Lee brand pound cake), go ahead and grab two—you'll have enough filling to go around. For a different spin, swap the Oreo cookies for chopped peanut butter cups or sliced fresh strawberries.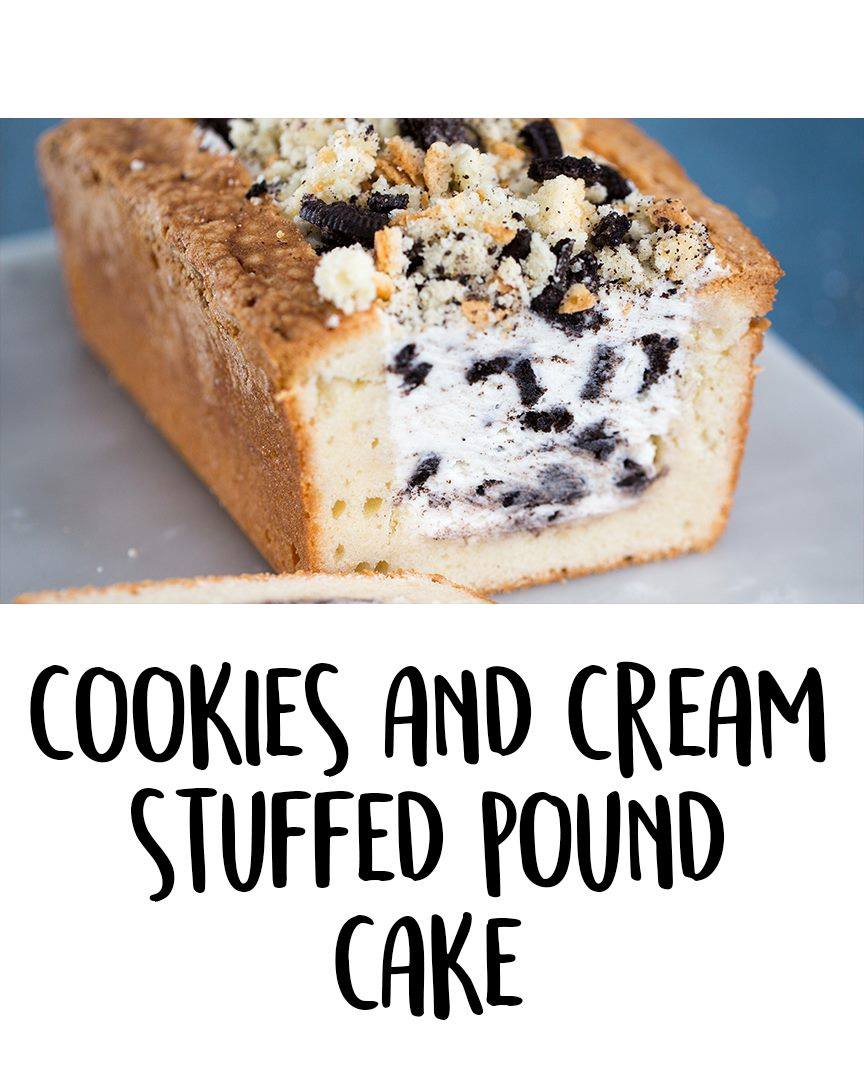 Ingredients
1 store-bought pound cake loaf
12 Oreo cookies, divided
1 (8-oz.) pkg. cream cheese, softened
¼ cup (2 oz.) unsalted butter, softened
¼ teaspoon kosher salt
1½ cups powdered sugar
Instructions
Use a paring knife to cut a rectangle in top of pound cake, leaving a ¾-inch border; scoop out the center of pound cake down to about 1 inch from the bottom. Reserve 2 tablespoons of the center cake crumbs for the topping, and remainder for snacking.
Chop 10 of the cookies into ¼- to ½-inch pieces; set aside. Finely crush remaining 2 cookies, and stir together with reserved cake crumbs for topping.
Beat together cream cheese, butter, and salt with an electric mixer until smooth and fluffy, about 3 minutes. Gradually beat in powdered sugar. Fold in chopped cookies (don't overmix so the cream cheese mixture doesn't get too dark). Fill cut-out center with cream cheese mixture; sprinkle with crushed cookie and crumb topping. Chill 2 to 4 hours. Slice and serve.
Watch the recipe video here:
What's better than pound cake? A stuffed pound cake, that's what.GET THE RECIPE: https://trib.al/5Omp0zO (via Well Done)

Posted by MyRecipes on Thursday, May 16, 2019