Instant Pot Shrimp and Scallop Paella Pronto
I love this saffron-infused seafood and rice dish.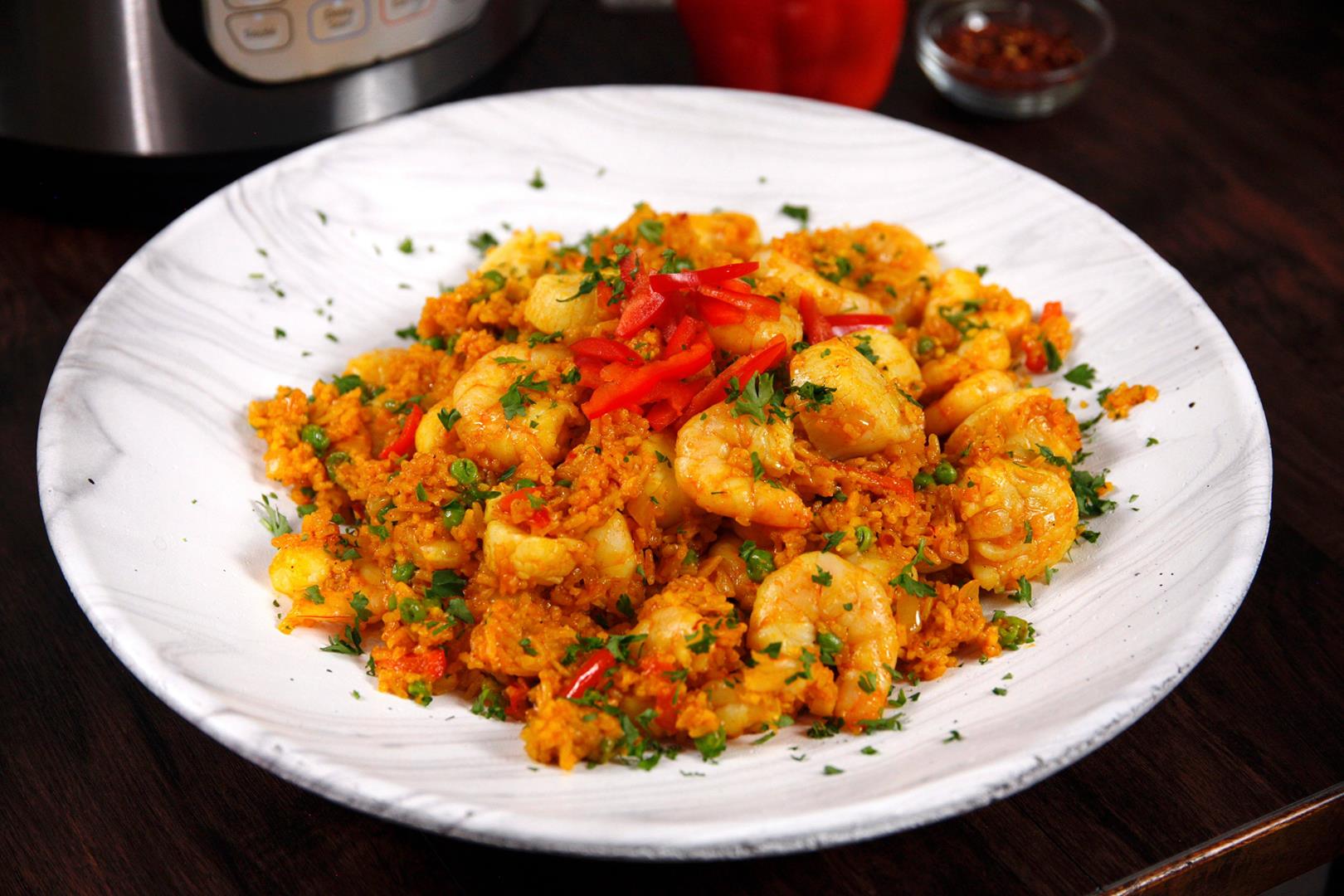 Ingredients
4 tbsp butter
1 onion, chopped
4 cloves garlic, chopped
Spice Mixture:
1 tsp paprika
1 tsp turmeric
½ tsp salt
¼ tsp black pepper
¼ tsp crushed red pepper
1 pinch saffron threads
1 cup valencia rice (or arborio)
1 red bell pepper, cut into short strips
1 cup chicken broth
½ cup white wine
1 lb large shrimp, peeled and deveined (preferably 31-40 size or larger)
1 lb sea scallops
1 cup green peas, frozen
⅓ cup chopped cilantro or italian parsley (optional)
Instructions
Add butter to the Instant Pot. Using the display panel select the SAUTE function.
When butter has melted, add onion to the pot and saute until soft, 3-4 minutes. Add garlic and cook for 1-2 minutes more.
Add Spice Mixture ingredients to the pot and cook for 1 minute or until spices are fragrant.
Add rice and red pepper to the pot and stir well.
Add broth and wine to the pot and deglaze by using a wooden spoon to scrape the brown bits from the bottom of the pot.
Turn the pot off by selecting CANCEL, then secure the lid, making sure the vent is closed.
Using the display panel select the MANUAL function*. Use the +/- keys and program the Instant Pot for 6 minutes.
When the time is up, quick-release the remaining pressure. Add the shrimp, scallops and frozen peas.
Cook and gently stir until shrimp and scallops are cooked through and most of the liquid has been absorbed, returning to SAUTE mode as needed.
(Optional) Arrange on a paella pan (or other wide, shallow, stovetop-safe pan) and set on the stovetop, uncovered, on medium-high heat until the bottom of the rice forms a crust, about 5 minutes.
Serve family-style sprinkled with cilantro or parsley.
Watch the recipe video here:
I love this saffron-infused seafood and rice dishRECIPE: http://chopsecrets.com/instant-pot-shrimp-and-scallop-paella-pronto/

Posted by Chop Secrets on Thursday, May 16, 2019