Banana Split Surprise Cake
A classic diner treat, Banana Split is always a treat. We've filled a banana cake with no churn ice cream and topped it with traditional banana split toppings. Go wild with this one. Would be delicious filled with a chocolate or strawberry flavoured ice ream too 😉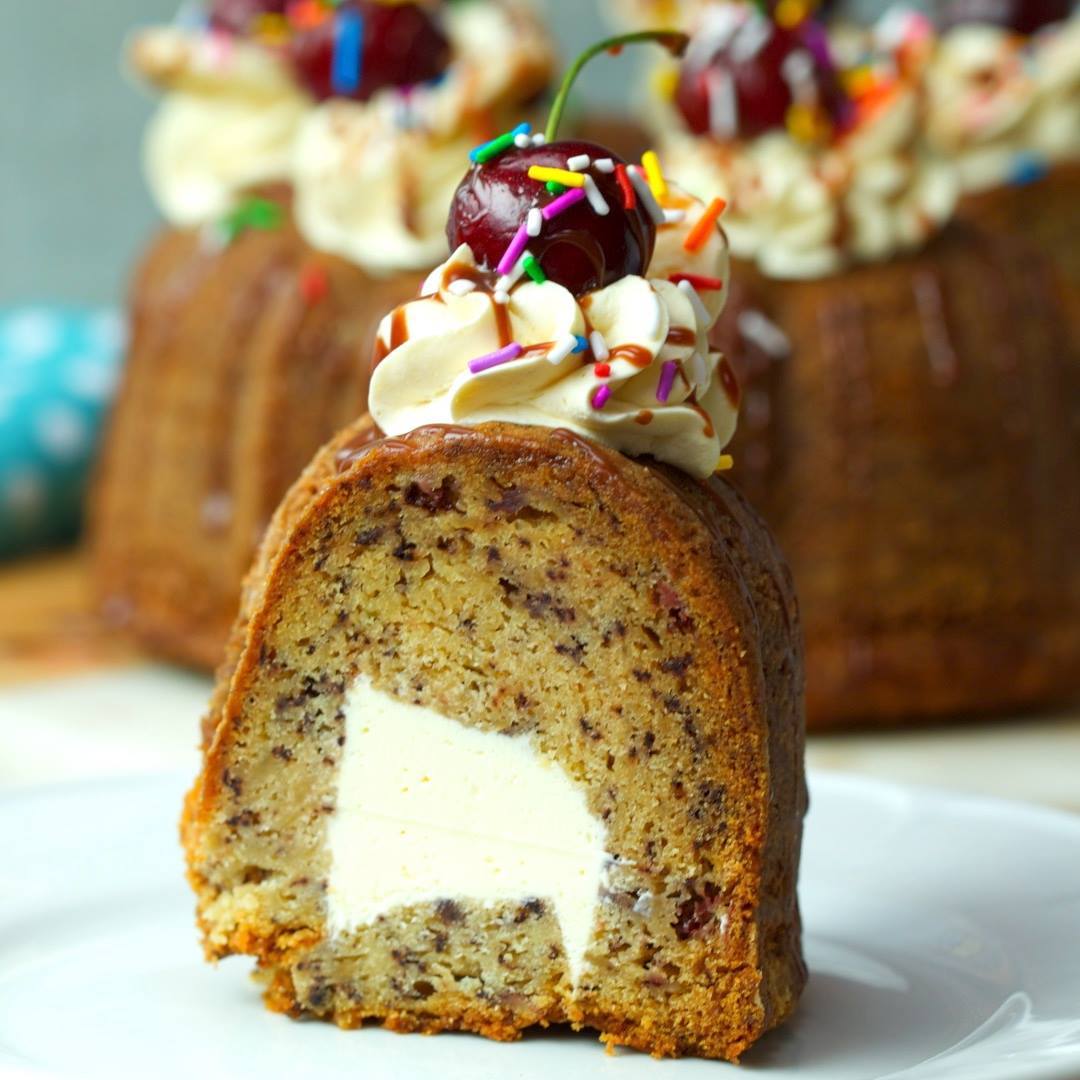 Ingredients
4 ripe bananas, mashed
1 cup butter, softened
2 cups sugar
3 cups flour
2 tsp baking soda
½ tsp salt
2 eggs
1 tsp vanilla
1 cup sour cream
2 cups heavy cream
1 can condensed mlk
2 tsp vanilla
Pinch of salt
Whipped Cream
Cherries
Sliced bananas
Sprinkles
Chocolate sauce
Instructions
Make banana bundt: Grease and flour a bundt tin, set aside. Pre-heat oven to 180ºC (350ºF).
In a large bowl, using a hand mixer mix butter until smooth. Add sugar and whip together until just pale in flour. Add eggs, vanilla and bananas. Whisk together to combine.
In a separate bowl, whisk together flour, baking soda and salt. Fold in ½ of the flour mix to the wet mix. Then add all of the sour cream. Finish with folding in the remaining flour until combined.
Pour into tin, rap tin on the table. Bake for about 1hour until a toothpick comes out clean.
Remove and cool completely.
Meanwhile whisk heavy cream to stiff peaks. Fold in condensed milk, vanilla and salt.
While the cake is in the bundt tin, cut out the centre of the cake but keep the bottom. Scoop out about 2 inches deep to create a well.
Scoop no churn ice cream into the centre and smooth. Top with the cake that was taken out. As shown in the video. Cover with cling film and freeze for 3-4 hours.
Pipe rosette of whipped cream over the cake, top each with a cherry, a slice of banana, chocolate sauce and sprinkles.
Banana Split Surprise Cake

Posted by Twisted on Friday, June 8, 2018