Key Lime Pie Pops
Enjoy mini key lime pies, graham cracker crust and all, dipped in chocolate on a stick.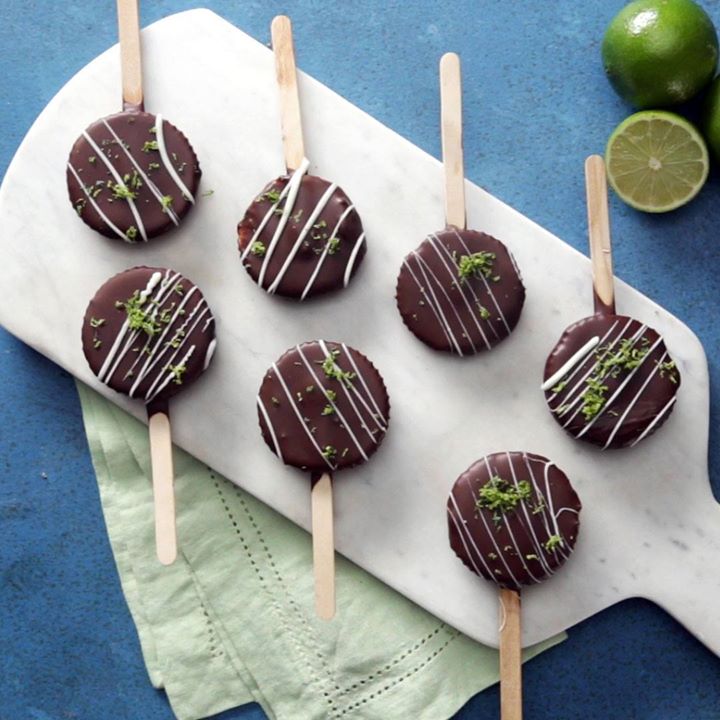 Ingredients
Crust:
1 cup graham cracker crumbs
5 tablespoons butter, melted
2 tablespoons sugar
1 tablespoon cinnamon
Filling:
1 (14-ounce) can sweetened condensed milk
3 egg yolks
½ cup lime juice
1 teaspoon lime zest
Chocolate coating:
12 ounces dark chocolate
⅓ cup coconut oil
Instructions
For the crust:
Preheat oven to 350 degrees.
Add 12 cupcake liners to a muffin pan. In a medium-sized bowl, add graham cracker crumbs, butter, sugar and cinnamon. Stir to combine. Scoop graham cracker mixture into liners, filling them one-fourth of the way then pressing down into a flat layer.
For the filling:
In a large measuring cup, add condensed milk, egg yolks, lime juice and zest. Mix until fully combined. Pour filling on top of crusts, filling them another fourth of the way.
Bake for 10 to 12 minutes until set. Remove and let cool. Freeze for 2 hours. Remove from liners, and insert a popsicle stick into each.
For the chocolate:
In a bowl over a double boiler, heat chocolate and coconut oil. Slowly stir until completely melted. Remove from heat.
Dip pies into chocolate, then place flat on a parchment-lined baking sheet. Freeze until chocolate is set.
Watch the recipe video here:
We've done cake pops. We've done brownie pops. Now it's time for pie pops. Full Recipe: taste.md/2FNZvnd

Posted by Tastemade on Monday, March 5, 2018