Chocolate-Filled Banana Muffins
Chocolate-Filled Banana Muffins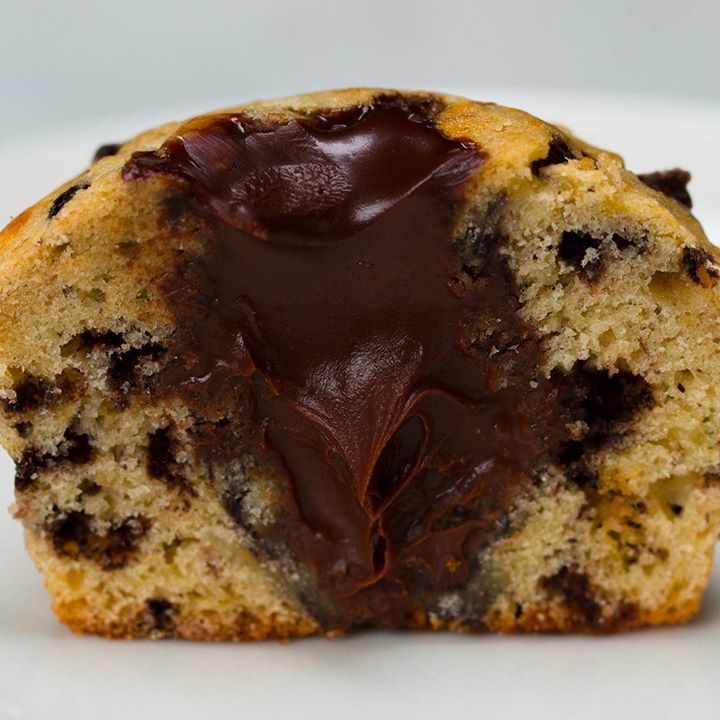 Ingredients
2 bananas
1 large egg, room temperature
⅓ cup (80 mL) vegetable oil
½ cup (100 g) sugar
¼ cup (60 mL) whole milk
1 teaspoon vanilla extract
1 ½ cups (185 g) all-purpose flour
1 teaspoon baking powder
½ teaspoon baking soda
¼ teaspoon kosher salt
¼ cup (45 g) chocolate sprinkles
nonstick cooking spray, for greasing pan
½ cup (85 g) semisweet chocolate chip
½ cup (120 mL) heavy whipping cream, hot
Instructions
Preheat the oven to 300°F (150°C).
If your bananas aren't already very ripe, place them on a baking sheet lined with parchment paper. Bake for 15-20 minutes, until they are nearly black. Be careful to not overcook or the bananas will leak.
Let the bananas cool to room temperature. Increase the oven temperature to 350°F (180°C).
Peel the bananas, then place them in a large bowl. Mash bananas using a hand mixer or fork.
Add the egg, vegetable oil, sugar, milk, and vanilla. Beat until combined.
Sift the flour, baking powder, baking soda, and salt into the banana mixture. Beat until just combined, being careful to not overmix.
Use a rubber spatula to gently fold the chocolate sprinkles into the batter.
Grease a 12-cup muffin tin with nonstick spray. Divide the batter among the cups.
Bake for 20-25 minutes, until the tops are lightly browned and a toothpick inserted in the center of a muffin comes out clean.
Place the chocolate chips in a heatproof liquid measuring cup. Pour over the hot heavy cream. Let sit for 1 minute, then stir until the chocolate is melted and smooth.
While the muffins are still warm, use the back of a wooden spoon to push down a hole into the center of each muffin. Allow to cool to room temperature.
Fill the muffins with the chocolate ganache.
Chill the muffins in the fridge for at least 1 hour, until the center has set.
Enjoy!
Watch the recipe video here:
Chocolate-Filled Banana Muffins

If you don't have super ripe bananas on hand, here's a hack you can use so you can still make these chocolate-filled banana muffins! ?FULL RECIPE: https://tasty.co/recipe/chocolate-filled-banana-muffins

Posted by Tasty on Wednesday, April 4, 2018