Cookie Dough Cheesecake
Not a fan of baking? This cheesecake is perfect for you! Don't even need to turn the oven on. The base is a completely edible cookie dough topped with a creamy no-bake cheesecake and mini chocolate chip cookies for good measure.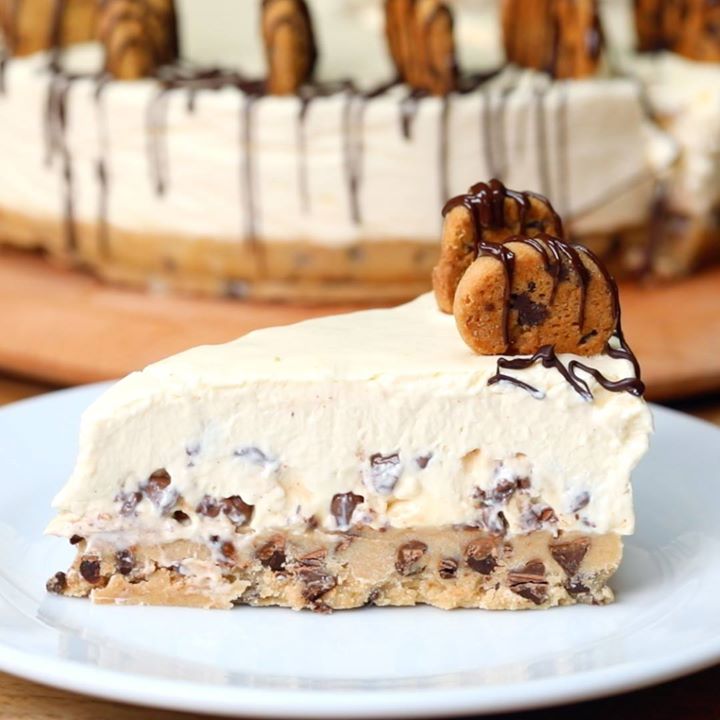 Ingredients
Cookie Dough:
¾ cups butter, softened
¾ cup brown sugar
¼ cup granulated sugar
1 ½ cups flour
1 tsp salt
1 tsp vanilla
2 tsp milk
1 cup chocolate chips
4 cups cream cheese, softened
¾ cup sugar
1 teaspoon vanilla extract
4 cups heavy cream, hot
1 ½ tablespoons gelatin powder
1 cup chocolate chips
Mini chocolate chip cookies
Melted dark chocolate
Instructions
In a large bowl, cream together butter, brown sugar, granulated sugar, salt, vanilla and milk until pale a fluffy.
Heat flour in microwavable-bowl for 1 minute. Let cool. Add flour, salt, and chocolate chips; fold until combined.
Divide and press cookie dough into 9" lined spring-form pan, place in the fridge for 30 minutes to set.
Meanwhile, make the cheesecake filling. Blend together cream cheese and sugar until smooth, set aside.
Whisk gelatin into the hot cream and let sit for 5 minutes to cool. Gradually whisk cream mixture into cream cheese until smooth. Stir in chocolate chips.
Pour on top chilled of cookie dough and spread evenly. Chill overnight to set.
Top with mini chocolate chip cookies and drizzle cookies with melted chocolate.
Enjoy!
Watch the recipe video here:
Cookie Dough Cheesecake

Posted by Twisted on Sunday, December 17, 2017