Baklava Cheesecake
Made with a phyllo dough and pistachio crust, this creamy, honeyed baklava cheesecake incorporates the best of both desserts.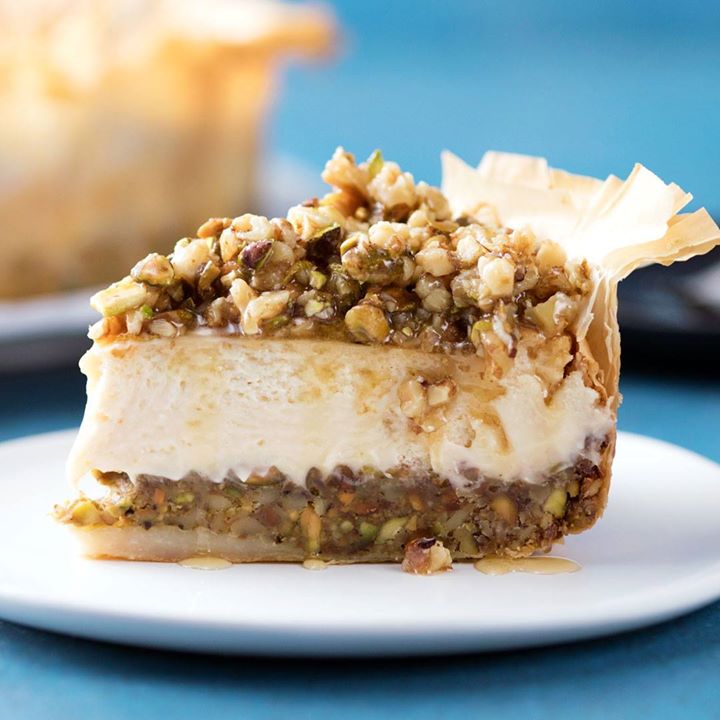 Ingredients
For the crust:
12 sheets phyllo dough
12 tablespoons butter, divided and melted
2 cups pistachios
2 cups walnuts
Pinch salt
For the cheesecake:
3 cups cream cheese, softened
½ cup honey
3 large eggs
2 teaspoons vanilla
1 teaspoon lemon juice
For the topping:
1 cup honey
½ cup water
1 teaspoon orange blossom water
¼ cup pistachios, chopped
½ cup walnuts, chopped
Zest and juice of 2 lemons
Instructions
Make the crust:
Prepare a 9-inch springform pan with baking spray and line with parchment between the plate and the form. Set aside.
Working quickly and one at a time, brush a phyllo dough sheet with butter and fold in half. Carefully place into the lined springform. Repeat until the pan is completely covered with phyllo dough and 8 tablespoons of butter are used. Set in fridge while you make the crust.
In the bowl of a food processor fitted with the blade attachment, grind pistachios and walnuts to a coarse, sand-like texture. Pour in remaining melted butter and salt and mix to combine. Press into the bottom of the phyllo-lined pan and set in the refrigerator until cheesecake filling is made.
Make the cheesecake:
Preheat the oven to 325 degrees.
In a large bowl, beat cream cheese until fluffy. Add honey. Add in eggs one at a time until combined. Add vanilla and lemon juice. Do not over mix.
Pour over crust and level in the pan. Bake for 40 to 45 minutes until cheesecake is set. Remove from oven and let cool for 1 hour. Set in fridge for 4 hours or up to overnight to completely chill.
Make the topping:
In a small saucepan, combine honey, water and orange blossom water and heat on medium-high. Bring to a boil and reduce to a simmer for approximately 15 minutes until thick. Remove from heat until cool, approximately 40 minutes. Stir in walnuts and pistachios and set aside until the cheesecake is ready.
Assemble the cheesecake:
Once cheesecake has set and cooled, remove springform pan to reveal the baklava crust. Top with pistachio walnut topping and serve. Cake will keep up to 5 days refrigerated.
Watch the recipe video here:
Procrastibaking (verb): the art of making dessert instead of what you should be doing.Full Recipe: bit.ly/2EWPo2g

Posted by Tastemade on Wednesday, February 28, 2018