These Spicy-Crispy Buffalo Rice Bombs Are Ready for Your Next Shindig!
These spicy-creamy Buffalo Rice Bombs are ready for your next shindig. The effort is worth it in the end for this recipe, and you won't be able to get enough of the crispy coating and subtle heat through and through. Fry these rice bombs and serve them with a cooling sauce like ranch or sour cream for a combination that's unlike anything else. Give these a try - you'll want these everyday!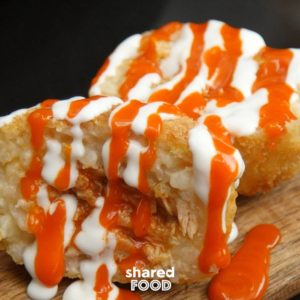 Ingredients
For the rice:
2 tablespoons olive oil
1 cup onion, diced
1 pound Arborio rice
½ cup white wine
4½ cups chicken stock, divided (plus more as needed)
For the buffalo chicken:
½ pound boneless skinless chicken thighs (about 2 thighs)
½ cup onion, diced
1½ tablespoons unsalted butter
1 cup chicken stock
1½ cups water
½ teaspoon ground cumin
¼ teaspoon oregano
¼ cup hot sauce, plus 2 more tablespoons
For the buffalo sauce:
1 cup hot sauce
2 tablespoons melted butter
½ teaspoon ground cumin
For the dredge:
3 eggs, beaten
1 cup Romano cheese, shredded
2 eggs
2 tablespoons milk
1 cup all-purpose flour
1½ cups seasoned bread crumbs
Vegetable oil for frying
Celery and carrot sticks, for serving
Instructions
In a large pot, heat the oil and onions, sauteing for about 3 minutes, or until the onions become translucent. Stir in the rice, and cook for one minute, then stir in the white wine, being careful to stir frequently to keep the mixture from bubbling.
Once the wine is absorbed, stir in one cup of the chicken stock. Continue cooking until almost fully absorbed, then add another cup of chicken stock. Continue this until all of the stock is used up, and the rice is cooked but still al dente, about 15-20 minutes. You may need a bit more chicken stock to get to this stage.
Once rice is done, pour it out evenly onto a baking sheet, cover and chill until thoroughly cooled. Once fully cooled, transfer to an airtight container with a lid, and keep chilled until ready to use.
In a new pot, to cook the buffalo chicken, stir together the chicken, onion, butter, chicken stock, water, cumin, oregano, and ¼ cup of the hot sauce, bringing it to a boil, then lowering to a simmer. Cook one hour or until the chicken is completely tender and easily torn into smaller pieces.
Strain the liquid from the chicken and discard. Place the chicken and onions in a bowl and shred, then mix in the remaining 2 tablespoons of the hot sauce. Set aside in the refrigerator until later.
To make the buffalo dipping sauce, mix together the hot sauce, melted butter, and cumin until well-combined. Set aside in the refrigerator until later.
Take out the thoroughly-chilled rice, then stir in the 3 beaten eggs and Romano cheese. Split up the mixture into 20 balls, flattening each slightly to about three inches round. Line up the balls on a parchment-lined baking sheet.
Take the chicken out of the refrigerator, then split up into 10.
Wet your hands with a little water, then pick up one rice patty, placing a chicken portion into the center. Cover the patty with another rice patty, pressing together and shaping into a ball, ensuring that the chicken is evenly covered. As you form each one, place back on lined sheet pan and then refrigerate until the next step.
To dredge the bombs, pull out three bowls; in one bowl, beat the two eggs with milk; in the second bowl, add in the flour; in the third bowl add the seasoned breadcrumbs.
In a large pot or deep fryer, heat enough oil to fully cover the bombs while they fry. Heat oil to 325 degrees.
Begin dredging the bombs by dipping in flour first, then eggs, then breadcrumbs, then placing on a clean tray or plate. Continue until all bombs are dredged.
Going in batches, fry a few bombs at a time in the hot oil, turning as needed until evenly golden brown all over, about 3 minutes. Remove to a paper towel-lined pan or plate to drain of excess grease.
Serve with ranch dressing or sour cream, buffalo sauce, and celery and carrot sticks.
Watch the recipe video here: