Reese's Stuffed Brownies
But seriously, how could they not be good?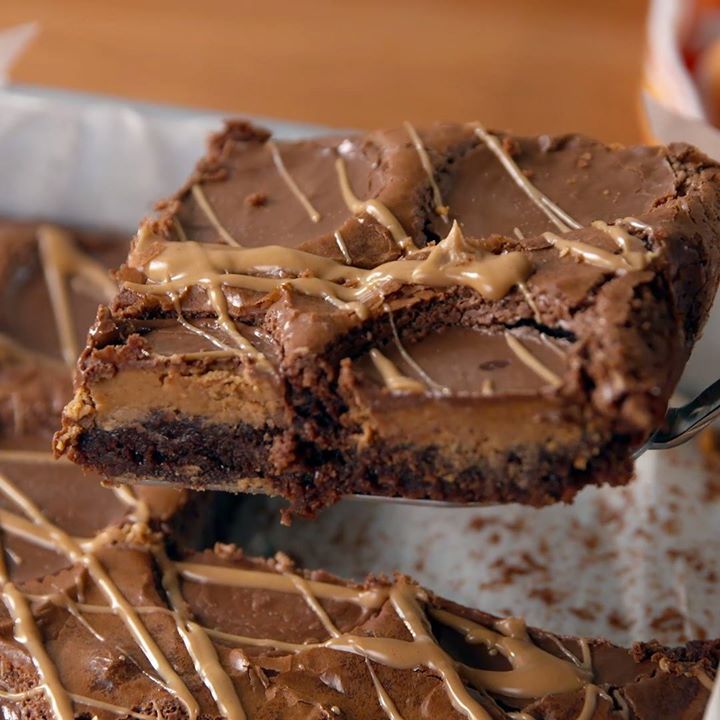 Ingredients
1¼ c. all-purpose flour
1 tsp. kosher salt
¼ c. unsweetened cocoa
1½ c. chocolate chips
1 c. unsalted butter, cut into 1 inch pieces
1½ c. granulated sugar
½ c. packed light brown sugar
5 eggs, at room temperature
2 tsp. vanilla extract
12 Reese's, unwrapped
Instructions
Preheat the oven to 350°. Butter the inside of 9"-×-13" inch baking pan and line with parchment paper.
In a medium bowl, whisk together the flour, salt, and cocoa powder.
Set a large heatproof bowl over a saucepan of simmering water to create a double-boiler. Add the butter and the chocolate chips to the bowl. Heat, stirring occasionally until the chocolate and butter are completely melted and smooth. Turn off the heat, then whisk in the sugars and stir until combined. Remove bowl from heat.
Add the eggs one at a time, stirring well between each addition. Stir in vanilla. Sprinkle the flour mixture over the chocolate mixture and fold in the dry ingredients with a rubber spatula until just combined. Fold in remaining chocolate chips.
Pour the batter into parchment paper-lined baking pan then press the whole peanut butter cups into the batter. Bake until a toothpick inserted into the center of the brownies comes out with a few moist crumbs, about 30 minutes.
Let cool completely in the pan. Cut into squares and serve at room temperature.
Watch the recipe video here:
How To Make Reese's Stuffed Brownies

Once you try these Reese's Stuffed Brownies, you'll never settle for regular brownies again.Full recipe: http://dlsh.it/5S5AIOe

Posted by Delish on Wednesday, January 17, 2018