Frozen Hot Chocolate Pie
Get your cocoa fix with a pie filled with chocolate ganache and hot cocoa mousse buried under a layer of toasted marshmallows.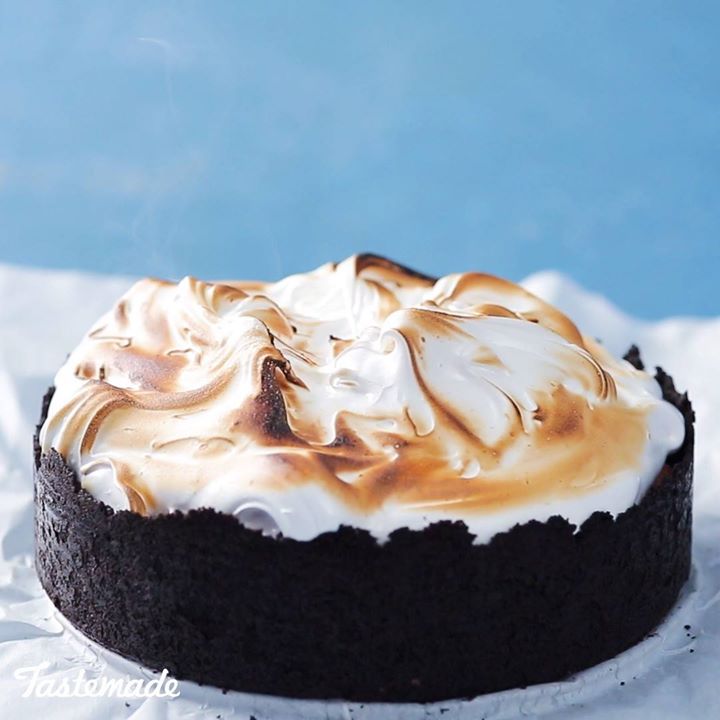 Ingredients
For the crust:
2 cups finely ground chocolate cookie crumbs
7 tablespoons unsalted butter, melted
For the frozen hot chocolate mousse:
1¼ cups chopped dark chocolate (about 70% cacao)
Pinch sea salt
2 cups heavy cream, chilled, divided
2 tablespoons granulated sugar
2 (.73 ounce) packets hot chocolate mix
For the marshmallow topping:
2 cups granulated sugar, divided
½ teaspoon cream of tartar
½ cup water
4 large egg whites
Instructions
Make the crust: Preheat oven to 350 degrees, and line a 7-inch springform pan with parchment paper.
In a large bowl, combine cookie crumbs and butter until moistened and mixed through. Press the crust into bottom and three-quarters of the way up the sides of the pan. Bake crust for 10 minutes, then let cool.
Make the hot chocolate mousse: Combine chocolate and salt in a large bowl.
Heat ½ cup cream in a small saucepan over medium heat until boiling. Pour into the bowl and let stand 5 minutes to melt chocolate before mixing to combine. Stir until glossy and smooth. Let cool slightly.
Meanwhile, in a large chilled bowl, add remaining 1½ cups cream. Using a hand or stand mixer, start on low speed, gradually bringing it up to high, and beat the cream until soft peaks have formed. Add sugar and beat just until stiff peaks form. Add in hot chocolate, and beat to mix. Add cooled melted chocolate mixture in 3 additions, gently folding to combine between each addition. Pour into crust, then chill, covered with plastic wrap, in freezer for at least 2 hours to set.
Make the marshmallow topping: About 20 minutes before serving, in a small saucepan set over high heat, stir together 1½ cups sugar, cream of tartar and water. Bring to a boil, then turn heat to medium-low and let reduce slightly, without stirring, for 4 to 5 minutes.
Meanwhile, place egg whites in the bowl of a stand mixer fitted with the whisk attachment. Beat on medium-high until soft peaks form. Turn mixer to high and gradually add in remaining ½ cup sugar. Once combined, very carefully pour hot sugar syrup into egg whites. Beat for 5 to 10 minutes until the bowl of the mixer has cooled to the touch and the meringue is thick and glossy.
Assemble the tart: Remove pie from freezer and remove from springform pan.
Spoon the marshmallow mixture on top of the pie. Use a kitchen torch to lightly toast the marshmallow topping before serving.
Watch the recipe video here:
This "hot chocolate" is seriously confused, but no one is complaining. ?Full Recipe: taste.md/2CkUlNZ

Posted by Tastemade on Saturday, December 30, 2017