Ultimate Fudgy Brownies
In these ultra fudgy brownies, coffee granules bump up the chocolate flavor. Add chocolate chips to the batter and you've got irresistible treats. —Sarah Thompson, Greenfield, Wisconsin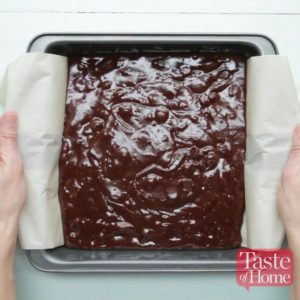 Ingredients
1 cup sugar
½ cup packed brown sugar
⅔ cup butter, cubed
¼ cup water
2 teaspoons instant coffee granules, optional
2-3/4 cups bittersweet chocolate chips, divided
4 large eggs
2 teaspoons vanilla extract
1-1/2 cups all-purpose flour
½ teaspoon baking soda
½ teaspoon salt
Instructions
Preheat oven to 325°. Line a 9-in. square baking pan with parchment paper, letting ends extend up sides. In a large heavy saucepan, combine sugars, butter, water and, if desired, coffee granules; bring to a boil, stirring constantly. Remove from heat; add 1-3/4 cups chocolate chips and stir until melted. Cool slightly.
In a large bowl, whisk eggs until foamy, about 3 minutes. Add vanilla; gradually whisk in chocolate mixture. In another bowl, whisk flour, baking soda and salt; stir into chocolate mixture. Fold in remaining chocolate chips.
Pour into prepared pan. Bake on a lower oven rack 40-50 minutes or until a toothpick inserted in center comes out with moist crumbs (do not overbake). Cool completely in pan on a wire rack.
Lifting with parchment paper, remove brownies from pan. Cut into squares.
Watch the recipe video here: