Bucatini with Butter-Roasted Tomato Sauce
We love the way that roasting intensifies the flavor of canned tomatoes. While we're pretty obsessed with the texture of bucatini, a strand pasta with a hole running through it, this dish is every bit as delicious with spaghetti, linguine, or even rigatoni.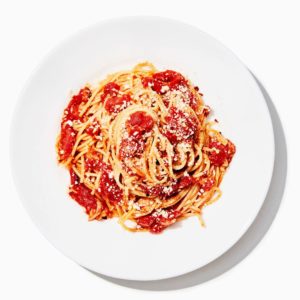 Ingredients
8 garlic cloves
¼ cup (½ stick) unsalted butter
1 28-ounce can whole peeled tomatoes
2 anchovy fillets packed in oil
½ teaspoon crushed red pepper flakes, plus more for serving
Kosher salt
Freshly ground black pepper
12 ounces bucatini or spaghetti
Finely grated Parmesan (for serving)
Instructions
Preheat oven to 425°. Crush 8 garlic cloves with the flat side of a chef's knife and remove peel. Cut ¼ cup (½ stick) butter into small pieces (about ½").
Empty 28 oz. can of tomatoes into a 13x9" baking dish and crush lightly with your hands. Watch out for flying tomato juices. Scatter garlic, butter pieces, 2 anchovies, and ½ tsp. red pepper flakes over tomatoes; season with salt and black pepper.
Roast tomatoes, tossing halfway through, until garlic is very soft and mixture is thick and jammy, 35–40 minutes. While tomatoes are roasting, bring a large pot of water (4-6 qt.) to a boil over high heat and add a small fistful of salt.
Remove pan from oven and let sauce cool slightly. Using a potato masher or fork, break up garlic and tomatoes until mixture looks like coarse applesauce.
Cook 12 oz. bucatini or spaghetti in pot of boiling water, stirring occasionally with tongs, according to package instructions for al dente. Toward end of cook time, use a heatproof measuring cup to scoop out and reserve ½ cup pasta cooking liquid. Drain pasta in a colander; reserve pot.
Return pasta to pot and add tomato sauce and pasta cooking liquid. Cook over medium-high heat, tossing with tongs, until sauce coats pasta, about 3 minutes.
Divide pasta among plates. Serve topped with Parmesan and more red pepper flakes.
Do Ahead: Tomato sauce can be made 4 days ahead. Let cool; cover and chill. Reheat before mixing with pasta.
Watch the recipe video here: