Surprise Rainbow Cake Pops
https://www.facebook.com/tastemade/videos/1733977159991357/ aOf course the rainbow tastes like cake covered in white chocolate. That's science.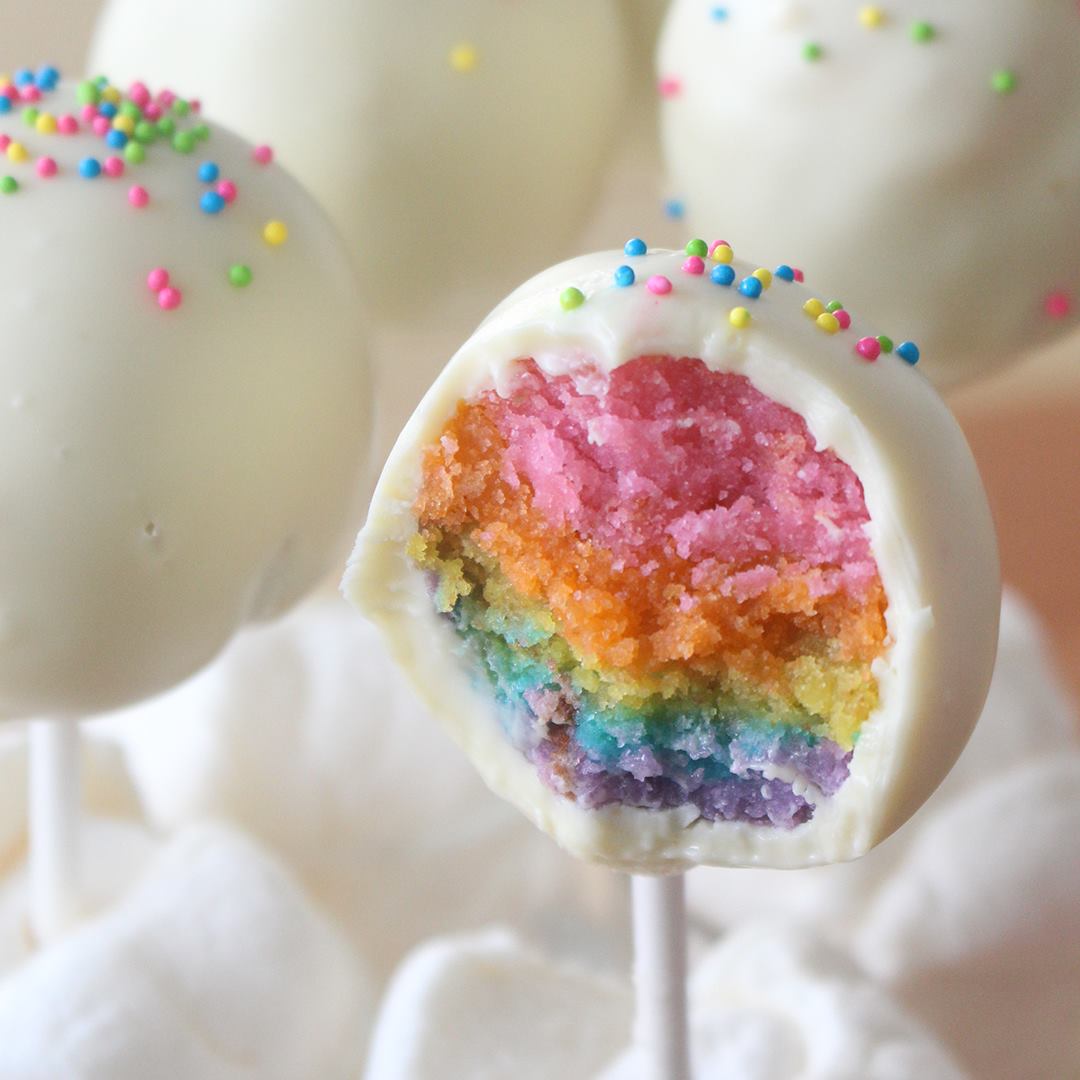 Ingredients
Cake:
¼ cup unsalted butter, room temperature
½ cup granulated sugar
½ teaspoon vanilla extract
1 egg
¼ teaspoon salt
1 cup all-purpose flour
1¾ teaspoon baking powder
½ cup milk
Rainbow food coloring
Cake pop filling & coating:
100 grams white chocolate chips
65 grams whipping cream
300 grams white chocolate chips
Rainbow sprinkles
Lollipop sticks
Instructions
Preheat oven to 350 degrees.
Bake the cake:
Cream the butter and sugar with an electric mixer until pale and fluffy. Add the vanilla extract, egg, and salt, and mix to combine.
In a separate bowl, combine the flour and baking powder. Add this to the wet mixture in 2 additions, alternating with the milk.
Divide the batter into 6 bowls and dye it the colors of the rainbow. Pour the batter into a cupcake tin lined with cupcake liners, making sure to not mix the colors.
Bake in oven for 15 minutes. Let cakes cool completely.
Build the cake pops:
Weigh 60 grams of each color of cake and crumble them into individual bowls.
Pour 100 grams white chocolate chips and whipping cream into a small pot and set to medium heat.
Stir constantly until the chocolate has melted, then divide evenly between the cake. Stir until the cake is fully coated in the chocolate mixture.
Place a sheet of plastic wrap on your cooking surface and stack small disks of each color of cake on top of each other in the order of the rainbow.
Wrap the plastic wrap around the cake and shape into a ball. Remove the plastic wrap and place the cake pops on a plate lined with plastic wrap. Place in the freezer until firm (about 20 minutes).
Dip the lollipop sticks into some melted white chocolate and stick one into each cake pop. Return the cake pops to the freezer for the chocolate to set (about 5 to 10 minutes).
Dunk the cake pops into the melted chocolate, gently tapping the lollipop stick to remove any excess chocolate.
Sprinkle some rainbow sprinkles onto the top of the cake pops, then stick into a cake pop holder. Transfer to the fridge so the chocolate coating can fully set (about 10 to 15 minutes).
Bite into the cake pops to reveal a beautiful rainbow center!
Watch the recipe video here:
You too can fit an entire rainbow in your mouth.Taste for Yourself: taste.md/2dD6pwo

Posted by Tastemade on Thursday, July 12, 2018