Chicken-Ramen Noodle Pot Pie
Chicken-Ramen Noodle Pot Pie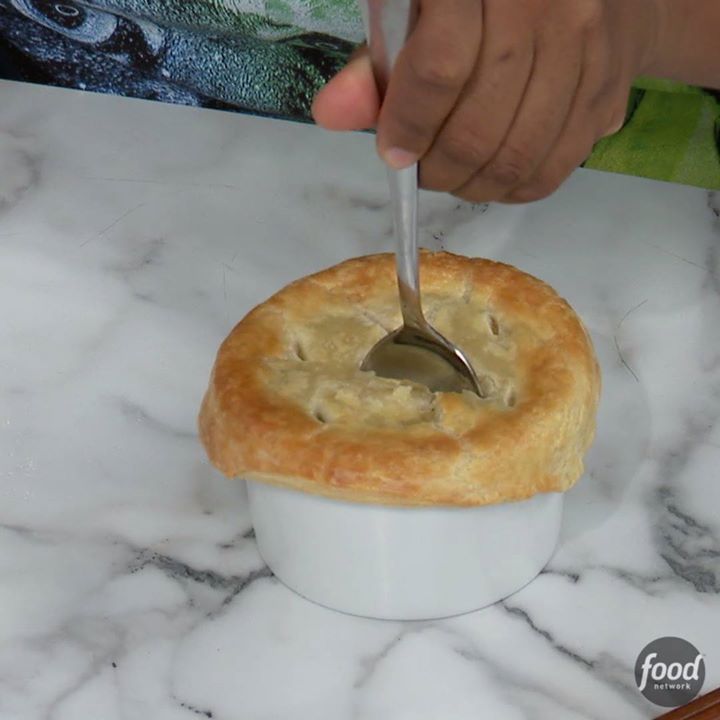 Ingredients
1 package ramen noodles
Two 8-inch pie crusts
1½ cups chicken stock
¾ cup sliced halved carrots
¾ cup fresh or frozen English peas
½ cup sliced leeks (thoroughly rinsed)
4 tablespoons butter
¼ cup all-purpose flour
½ cup milk
¼ cup heavy cream
Kosher salt and freshly cracked pepper
1½ cups ½-inch-diced cooked chicken breasts (two 8-ounce breasts)
2 tablespoons sliced chives
1 egg, beaten
Instructions
Special equipment: four 8-ounce ramekins
Cook the ramen noodles according to package directions. Drain and cut into 1- to 2-inch pieces.
Roll out the pie crusts to a thickness of ¼ inch. Using an 8-ounce ramekin as a guide, cut out 4 circles with an extra 1-inch border of crust all around.
Preheat the oven to 425 degrees F.
Bring the chicken stock to a boil in a medium saucepan. Blanch the carrots, peas and leeks separately in the broth until tender and set aside. Reserve the broth.
Melt the butter over a medium flame in a saucepan. Add the flour and cook until it begins to smell toasted, 1 to 2 minutes. Add the milk and cream, and whisk until incorporated and smooth. Add the reserved chicken stock and bring to a simmer; season with salt and pepper. Cook the mixture until thickened, and then add the chicken, peas, carrots, leeks, noodles and chives.
Divide this mixture among four 8-ounce ramekins, top with the crusts, fold the borders over the sides and cut vents in the tops. Brush with the beaten egg and season with salt.
Bake until the pastry is golden and bubbly, 15 to 20 minutes. Allow to cool slightly before serving.
Watch the recipe video here: