Stuffed Fried Chicken Parmesan
Fried chicken and chicken parm - shining paragons of poultry cookery, undisputed titans of the chicken world. In this Twisted re-imagining we smash both of these together to create a thing of godlike, otherwordly magnificence.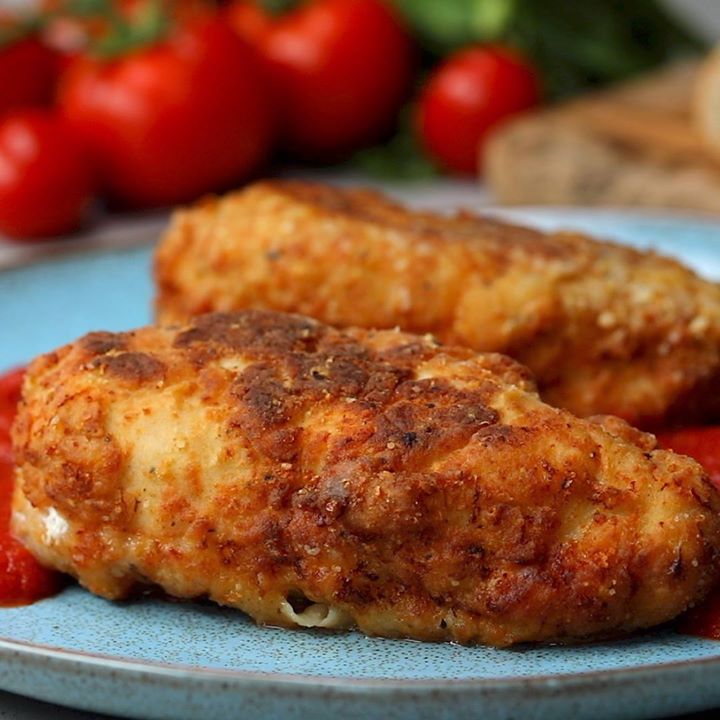 Ingredients
3 chicken breasts
Salt
Pepper
2 cups mozzarella
1 cup buttermilk
1½ cups flour
¾ cup grated parmesan
1 tbsp salt
1 tbsp pepper
1 tbsp garlic powder
1 litre groundnut oil
Instructions
Neatly butterfly each chicken breast and season on both sides.
Place some of the grated mozzarella in the middle of the butterflied breast and fold over, pressing together around the edges.
Whisk together the flour, parmesan, salt, pepper, and garlic powder. Dip the whole breast in the buttermilk then press into the flour mix. Press the coating to the chicken.
Shallow fry, turning over every now and then, for around 10 minutes, until the chicken has developed a lovely crisp skin.
Serve with marinara sauce and bread.
Watch the recipe video here: