Pesto Chicken-stuffed Garlic Bread
This pesto chicken-stuffed garlic bread has all of your favorite flavors ?!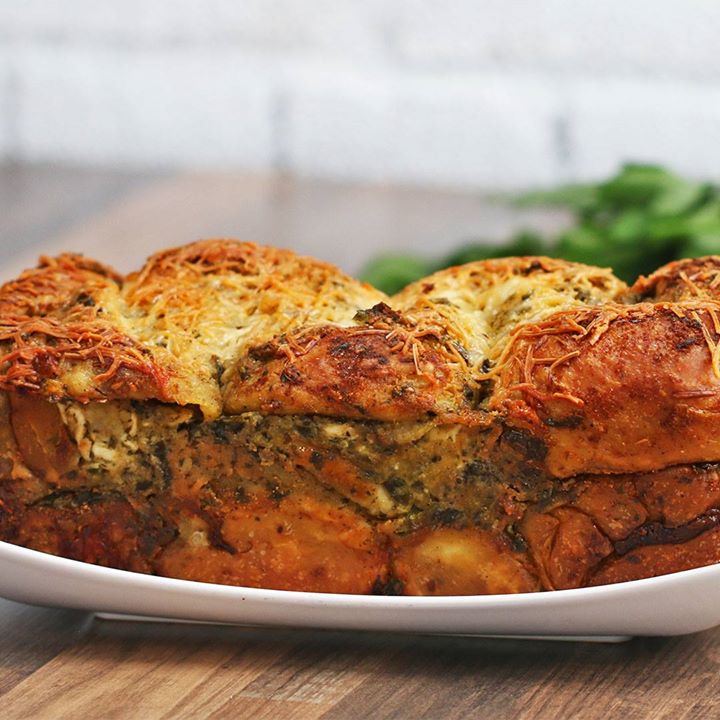 Ingredients
13.8 oz pizza dough, 2 packages
½ cup pesto
2 cups shredded mozzarella cheese
1 ½ cups chicken, cooked and shredded
½ cup butter, melted
1 tablespoon garlic powder
1 tablespoon onion powder
1 teaspoon pepper
3 tablespoons fresh parsley, chopped
1 cup grated parmesan cheese
Instructions
Preheat oven to 375˚F (190˚C).
Form a rope with one package of pizza dough about 12 inches (30 cm) long, then press flat.
Spread half of the pesto evenly on flattened dough, then sprinkle half of the mozzarella on top of the pesto. Place half of the chicken on top of the mozzarella.
Pinch the dough closed, and squeeze together, making sure the ingredients are not coming out.
Fold the stuffed dough rope into a zigzag shape. Repeat with second package of dough. Transfer one stuffed dough to a greased loaf pan.
Mix together melted butter, garlic powder, onion powder, pepper, and parsley. Spoon half of the garlic butter over first layer of stuffed dough.
Place second stuffed dough on top. Spoon the rest the garlic butter over the top . Sprinkle parmesan cheese over the top of the loaf.
Bake for 30 minutes. Cover the loaf pan with foil, then bake for an additional 30 minutes.
Remove from loaf pan and let cool.
Top with parsley (optional), slice and serve.
Enjoy!
Watch the recipe video here:
Pesto Chicken-Stuffed Garlic Bread

This pesto chicken-stuffed garlic bread has all of your favorite flavors ?!FULL RECIPE: https://tasty.co/recipe/pesto-chicken-stuffed-garlic-bread

Posted by Tasty on Monday, October 16, 2017