Cheesy Chips Steak Sliders
Why have steak and chips separately when you can combine them in a slider and top with cheese and let it all melt into a delicious beefy cheesy mess?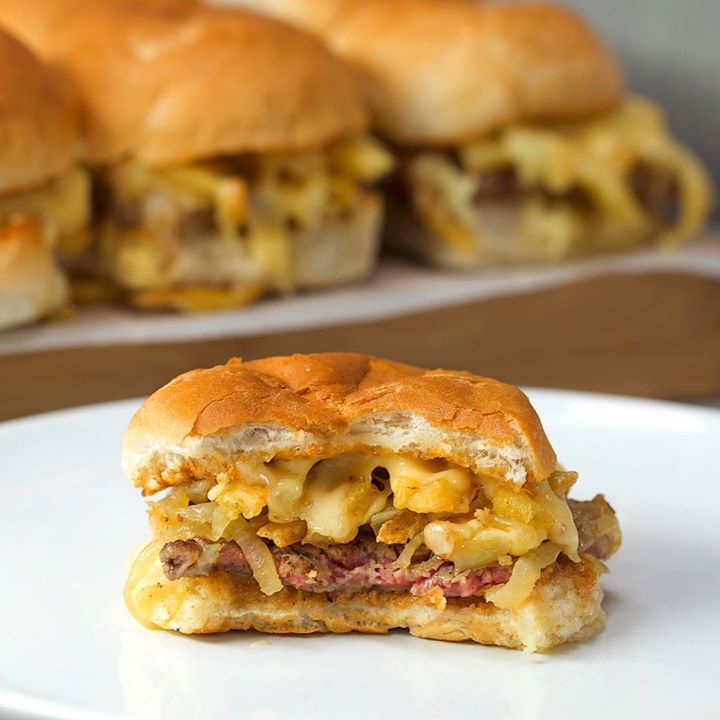 Ingredients
6 thinly sliced sirloin steaks
Salt
Pepper
2 tbsp oil
3 cloves garluc
1 bunch thyme
12 slider buns, cut in half, both sides toaster
1 cup garlic mayo
Caramelised onions
Cooked fries, 1 large pack
Grated Swiss cheese
Instructions
Preheat the oven to 180°C/360°F/.
Pat the steaks dry and season them on both sides.
Heat the oil until smoking in a skillet and add as many of the steaks as you can fit. Throw in the garlic and thyme and butter then tip the pan to one side, flip the steak and baste the cooked side with butter, fry for a little longer and remove from the heat.
Spread garlic mayo over the bottom buns then top with the steaks, onions, chips and cheese. Place the top buns on top and bake for around 5 minutes until the cheese is all melted and right nice.
Watch the recipe video here:
Cheesy Chips Steak Sliders

Posted by Twisted on Sunday, February 18, 2018