Rolo Pretzel Bites
Pretzels and Rolos are a salty/sweet match made in heaven.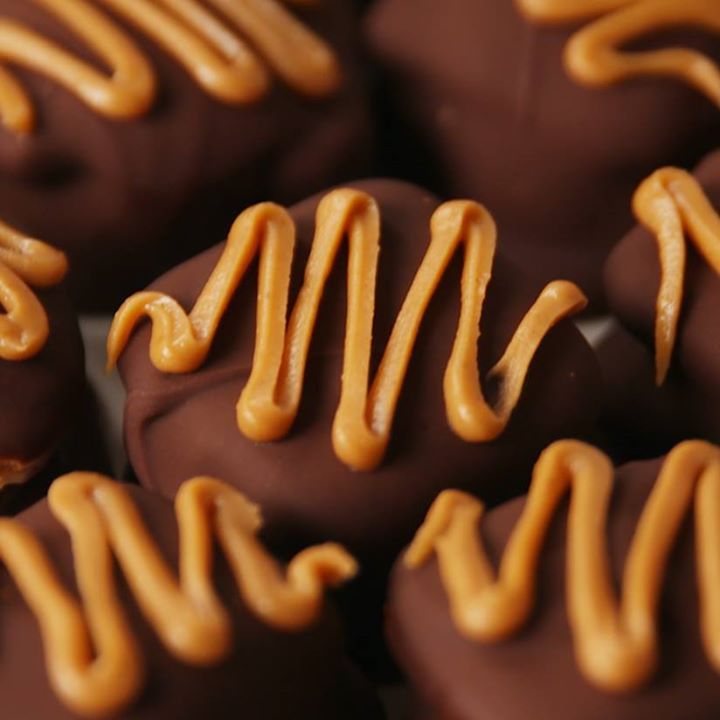 Ingredients
30 pretzels
15 Rolos
½ c. peanut butter, divided
1 tbsp. powdered sugar
2 c. chocolate chips, melted
1 tbsp. coconut oil
Instructions
Preheat broiler to high.
Place half of the pretzels on a baking sheet and top with Rolos. Broil until Rolos are slightly melty, about 2 minutes.
While the pretzels are baking, mix ¼ cup peanut butter with the powdered sugar in a medium bowl. Spread the peanut butter mixture on one side of the other half of the pretzels.
When the pretzels and Rolos come out of the oven, place the peanut butter pretzels on top of them, peanut butter side down. Place in the freezer to harden for 10 minutes.
In a medium bowl, mix the melted chocolate with the coconut oil. Dip the chilled pretzels into the chocolate mixture. Return to the freezer for 5 minutes to set.
Microwave the remaining peanut butter on high for 5 seconds. Place in a Ziploc bag and cut off a small corner. Drizzle the hardened pretzel bites with peanut butter and serve.
Watch the recipe video here: