Glazed Cinnamon Bun Ring
GLAZED CINNAMON BUN RING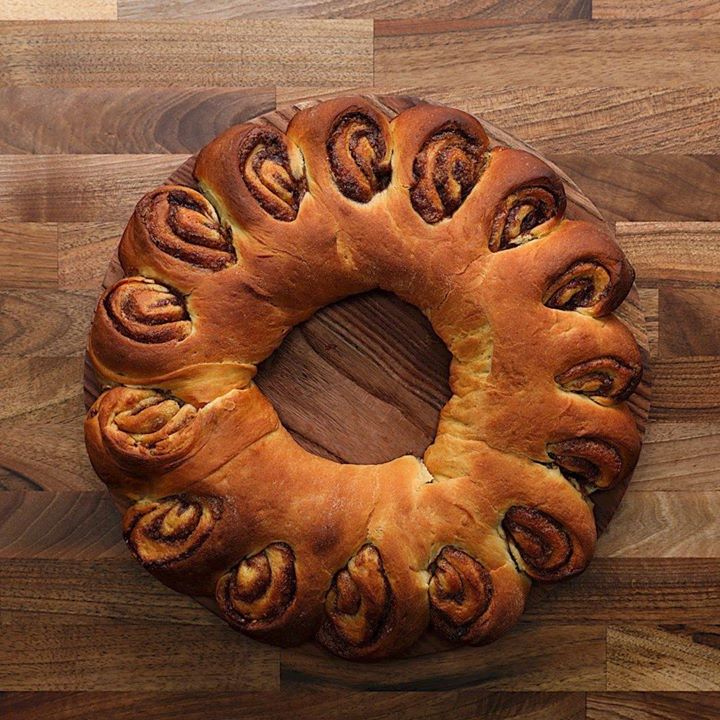 Ingredients
600g cinnamon roll dough
1 cup packed brown sugar
½ cup softened butter
3 tbsp cinnamon powder
½ cup cream cheese, softened
¾ cup butter, softened
2 cups icing sugar, sifted
1 tsp vanilla
2 tsp cream
Instructions
Roll dough out into a large rectangle. Spread butter evenly over top. In a small bowl mix together brown sugar and cinnamon powder. Sprinkle every overtop and press gently to adhere to the butter.
Roll into a tight log and twist into a circle and attach the two ends.
Pre-heat oven to 180ºC.
Using scissors cut slits but not all the way through every inch. Twist each roll side ways. Cover and let rise for 30 minutes.
Bake for 30 minutes until golden brown.
While baking, blend together icing sugar, cream cheese, butter, vanilla and cream until smooth.
Spread icing on cinnamon rolls while still warm.
Enjoy!
Watch the recipe video here:
Glazed Cinnamon Bun Ring

Posted by Twisted on Tuesday, November 21, 2017