Cheesy Mashed Potato Dippers
Everybody loves mashed potatoes, and everybody loves a loaded baked potato so why not combine the two? These mashed potato cakes are filled with cheese, chives and crispy bacon, fried until golden. They're the perfect amalgamation of the two!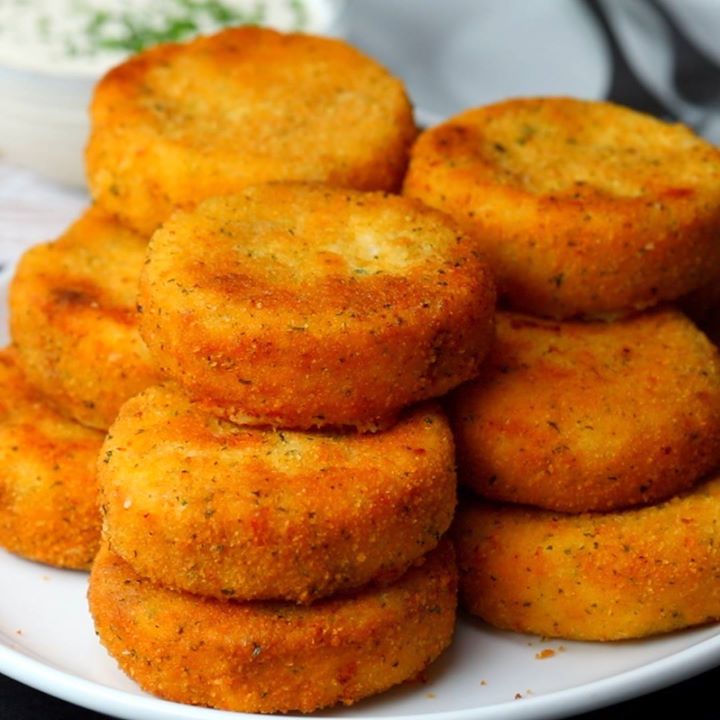 Ingredients
6 cups leftover mashed potato
12 bacon slices, sliced and cooked
3 tbsp finely chopped chives
1 tsp salt
1 tsp pepper
3 cups grated cheddar cheese
3 eggs
2 cups flour
2 cups seasoned breadcrumbs
Oil to fry
Sour Cream
Instructions
In a large bowl mix together mashed potato bacon, chives, salt, pepper and cheese until smooth.
Spread onto a large sheet lined with foil and press into an even layer. Let chill for 30 mins - 1 hour to set up.
Cut 3-inch rounds with a cookie cutter and set aside. Roll up remaining mash mix and continue to cut into rounds until complete.
Coat each potato cake in flour shaking off excess, then egg, then into seasoned breadcrumbs.
Heat enough oil in deep sided pan for shallow frying to 170ºC.
Add potato cakes to oil and cook until both sides are golden brown
Serve with sour cream. Enjoy!
Watch the recipe video here:
Cheesy Mashed Potato Dippers

Posted by Twisted on Saturday, February 17, 2018