Philly Cheesesteak Nachos
Proof that everything is better in nacho form.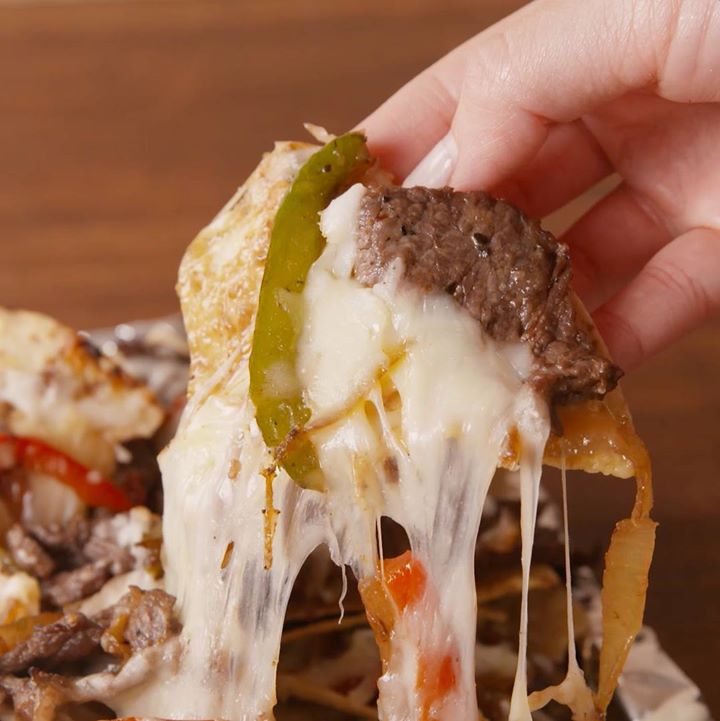 Ingredients
2 tbsp. vegetable oil
1 large onion, thinly sliced
2 large bell peppers, thinly sliced
kosher salt
Freshly ground black pepper
1 tsp. Italian seasoning
1 lb. sirloin steak, thinly sliced
2 c. shredded provolone
1 c. shredded mozzarella
1 large bag tortilla chips
Instructions
Preheat oven to 375°. Line a large baking sheet with foil.
Heat 1 tablespoon of oil in a large skillet over medium heat, then add onion and bell peppers. Season with salt and pepper and cook, stirring often, until the onions and peppers are tender, about 5 minutes.
Push peppers and onions to one side of the pan and add 1 tablespoon of oil to the other side. Add steak in a single layer and season with salt and pepper. Cook until the steak is seared on one side. Season with salt, pepper and Italian seasoning then mix steak together with onions and peppers.
Cook until the steak is seared on all sides, about 3 minutes. Remove from heat.
On the prepared baking sheet, add about half of the chips. Top with half of the mozzarella, half the provolone and half the steak and peppers. Repeat to make another layer with remaining ingredients.
Bake until the cheese is melted, about 15 minutes. Serve immediately.
Watch the recipe video here: