BACON CHEESEBURGER POP TARTS
These are, admittedly, not pop tarts. They are however most certainly burgers, wondrous burgers wrapped in pastry and made conveniently pie like for ease of eating. The Cornish past meets the cheeseburger.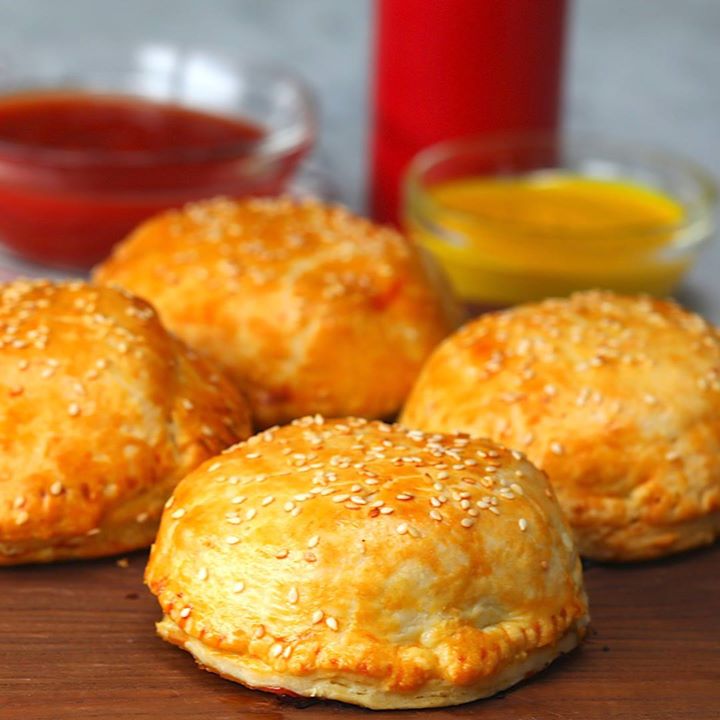 Ingredients
1.5 beef mince
2 ready rolled sheets puff pastry
American cheese
Cooked streaky bacon
1 egg, beaten
1 tbsp sesame seeds
Instructions
Use a cookie cutter to press thin burgers. Fry them off on a greased skillet, roughly a minute either side.
Cut disks from the pastry sheets - one slightly larger than the mini burgers, one another ⅚ cm larger to go on top.
Rest one of the cooked burgers on top of the smaller pastry sheet. Top with bacon slices and cheese, then repeat.
Brush around the edge of the sheet with the beaten egg and rest the other sheet on top - press together with your fingers then run around the edges with a fork.
Brush with more egg and sprinkle with sesame seeds.
Bake for around 30 minutes at 200°C/400°F.
Serve warm with ketchup.
Watch the recipe video here:
Bacon Cheeseburger Pop tarts

Posted by Twisted on Tuesday, May 15, 2018