Garlic And Herb Leg Of Lamb With Potatoes
Garlic And Herb Leg Of Lamb With Potatoes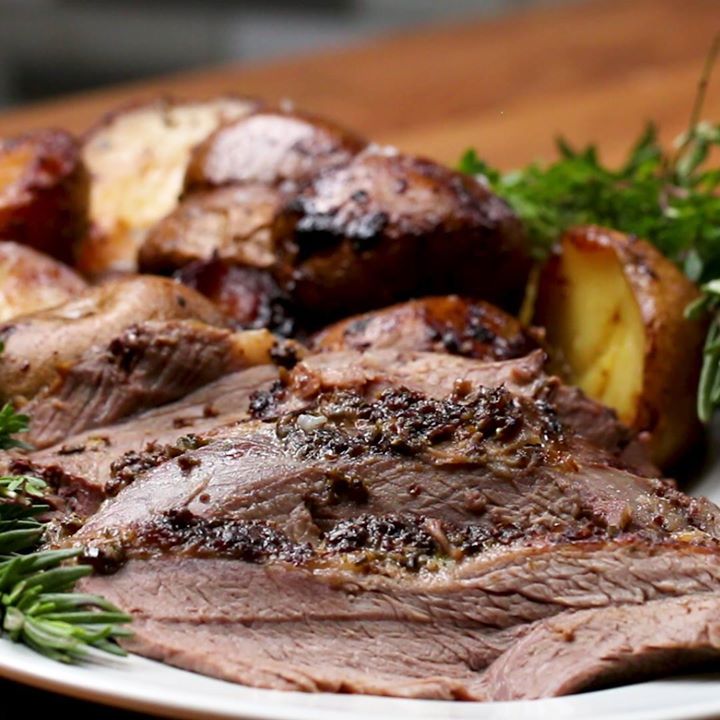 Ingredients
8 lb (3.6 kg) bone-in lamb roast with fat cap
12 cloves garlic, divided
½ cup (120 g) olive oil
⅓ cup (80 g) whole grain mustard, plus more for serving
1 lemon, juiced
10 sprigs fresh rosemary, stemmed and leaves finely chopped, plus whole sprigs for serving
10 sprigs fresh thyme, stemmed and leaves finely chopped, plus whole sprigs for serving
1 ½ tablespoons sea salt
1 tablespoon freshly ground black pepper
¾ cup (180 mL) dry white wine
2 ½ lb (1.1 kg) yukon gold potato, halved
flaky sea salt, for sprinkling
Instructions
-3 hours before roasting, prepare the lamb. Use a small, sharp knife to make 15 to 20 incisions, each about 2 inches (5 cm) deep, through the fat cap on top of the meat. Thinly slice 3 cloves of garlic and use your fingers to press the slices into the incisions.
In a blender, combine the remaining 9 garlic cloves, the olive oil, mustard, lemon juice, rosemary leaves, thyme leaves, salt, and pepper. Blend until a paste forms.
Spread the paste evenly all over the lamb. Let marinate at room temperature for 2 to 3 hours.
Preheat the oven to 425°F (220°C).
Place the lamb on a roasting rack in a roasting pan and pour the wine into the bottom of the pan. Roast for 15 minutes.
Remove the pan from the oven and reduce the heat to 325°F (160°C).
Arrange the potatoes, cut side down, in the roasting pan and place the lamb on the rack on top. Roast for 2 hours, tossing the potatoes and basting the lamb with the roasting liquid halfway through.
Transfer the potatoes to a platter, baste the lamb again with the remaining pan juices, and return the lamb to the oven. Continue to roast, basting often, until an instant-read thermometer inserted into thickest part of the leg reaches 130°F (for medium-rare), 45 minutes to 2 hours more, depending on thickness. (As a general rule, the lamb should roast 20 minutes per pound for medium-rare).
Transfer the lamb to a platter and set aside to rest for 20 minutes. While the lamb rests, return the potatoes to the roasting pan, season with flaky salt, and warm in the oven until just heated through, about 20 minutes. Return the potatoes to the serving platter.
Carve the lamb into ½-inch (1 cm) thick slices and arrange on the platter with the potatoes, garnished with rosemary and thyme sprigs. Serve with whole grain mustard alongside.
Enjoy!
Watch the recipe video here:
Get fancy and make this garlic & herb leg of lamb ?! FULL RECIPE: https://tasty.co/recipe/garlic-and-herb-leg-of-lamb-with-roasted-potatoes

Posted by Tasty on Friday, March 30, 2018